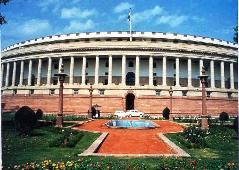 Acquisition of land for private purposes would require the consent of 80 per cent of the owners, goes the Bill finalised today, according to sources.

Under consideration of a Group of Ministers headed by Agriculture Minister Sharad Pawar, it will soon be placed before the Cabinet and is expected to make it to Parliament's winter session.

Last month, Pawar had said a proposal to seek the consent of 80 per cent of owners, along with many other broad principles, were being circulated among ministers and a consensus was being arrived at.

Today, sources said the land Bill had been finalised and the proposal to seek consent of 80 per cent of owners before any acquisition for private projects had been approved.

In the proposal mooted last month by Pawar and the rural development minister, Jairam Ramesh, to GoM members, no consent was required for acquiring land for public purposes, even for private parties.

But in the cases of both, public and private purposes, the provisions of relief and rehabilitation would apply equally as in the Bill. Sources said this had been accepted.

Many contentious issues have been however left for states to decide.

If
a state acquires land and decides to lease it out to the private sector, would the consent of owners be needed? This is a matter the bill leaves to the states.
The Bill also does not look at the fate of surplus land in the hands of owners.
"The Supreme Court says it should be auctioned.
"We will find out if it is applicable to this bill," Pawar had told reporters a few days ago.
Asked whether the Delhi-Mumbai industrial corridor and the Yamuna Expressway would require the consent of land losers, Pawar had said it would not be needed but townships in the project would need consent.
However, he said, projects such as housing might get counted as a public purpose.
Again in the case of the mammoth manufacturing zones planned in the country, Pawar had said where it was land for private companies and a private purpose, consent would be taken from land owners.
The bill might have retrospective effect, depending on the wish of the respective states where it is enforced, Pawar had said.
The Bill would come into effect on the day it is notified. But for projects which have not completed payments, the R&R provisions of the new law will apply, provided the state governments so desire. States are being consulted on this, Pawar had said.