Gold traders in India, the world's biggest buyer of the metal, struggled to find supplies amid low demand ahead of Dhanteras, the biggest gold buying festival, even as premiums stayed at record highs.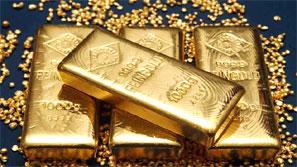 India has imposed several restrictions on imports of gold, the biggest non-essential import item, to curb a record trade deficit. Gold imports in September fell to 7 tonnes from 162 tonnes in May.

"Still gold is not available, and they are charging $120-130 (an ounce) of premiums," said Bachhraj Bamalwa, director with the All India Gems and Jewellery Trade Federation.

Most of the demand
is being met by recycled gold or through unofficial or illegal supply channels, traders said.
"Sales have dropped by 50 percent... and everything is happening according to the wishes of the government," said Harshad Ajmera, proprietor of Kolkata-based wholesaler JJ Gold House.
India this week celebrates Dhanteras, the most significant day for buying gold. This will be followed by Diwali, when buying gold is considered auspicious.
At 1043 GMT, the most-active gold for December delivery on the Multi Commodity Exchange (MCX) was at 30,209 rupees per 10 grams, 3 percent lower than the spot price of 31,160 rupees.
Silver for December delivery on the MCX was 0.66 percent higher at 49,770 rupees per kg.