General Motors India is aiming to increase sales three-fold over the next three years, with the five new models it is planning to launch in collaboration with Shanghai Automotive Industry Corporation.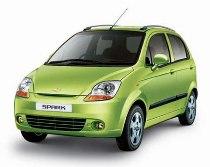 The fifth largest automobile manufacturer in India, it sold 69,000 vehicles last year.
"We intend to sell 100,000 units this year. We have a robust product line-up. Six new models would be introduced in the Indian market starting December 2011, five of which we are developing along with SAIC. We expect to sell 300,000 units every year by the end of 2013," said Karl Slym, president and managing director.
GM, which has so far been in the passenger car segment, will enter the commercial vehicle space with SAIC by the end of next year. The company is working on introducing two light commercial vehicles (LCVs) of one-tonne capacity. Slym added, "Commercial vehicles account for 40 per cent of total auto sales. The segment is projected to grow by 20-25 per cent every year for the next five years. To increase our presence in the Indian market, we have decided to introduce products in this segment as well."
Besides the LCVs, GM and SAIC would jointly launch two midsize sedans and a larger vehicle over the next two years. Also on the cards is a sports utility vehicle.
To make room for producing the LCVs, the company plans to roll out with SAIC, GM is investing $250 million (Rs 1,115 crore) to increase annual capacity to 100,000 at its facility in Halol, Gujarat, presently at 85,000 vehicles. "Halol would be our commercial vehicle hub. While Tavera, Cruze and Optra would continue to be manufactured at Halol along with commercial vehicles, the production of smaller cars -- Spark, Beat, Aveo and UVA - would shift to Talegaon, Pune."