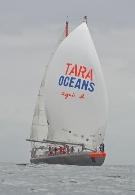 A 36-metre sailboat, on a three-year expedition across the world to study oceanic ecosystems and attempt to provide answers to climate issues, is on course to cruise into Indian shores this month.
'Tara', which set sail from Lorient in France on September 5 last year, will stopover in Mumbai on March 25 and in Goa on April one before continuing through the Indian Ocean and towards South America by the end of 2010.
The French-led 'Tara Oceans' expedition is carrying out a detailed analysis of microscopic life throughout the worlds' oceans to understand its importance and its sensitivity to climate change.
"We hope we will find out what the oceans will look like in 100 years…Which micro-organisms have gone extinct, which micro-organisms have taken over and how oceans will influence climate in future", Scientific Coordinator of Tara Ocean, Chris Bowler, told PTI.
It's a three year project, bringing together an international team of oceanographers, ecologists, biologists, geneticists, and physicists from prestigious laboratories headed by Eric Karsenti of the European Molecular Biology Laboratory.
At any given point of time, there are 14 people on board -- five sailors, five scientists and four journalists.
These sailors dive into the sea 2000 metres deep and pull out microscopic life three-four times a week, Bowler, also an Advisory Board Member of Bangalore-based firm Avesthagen, said.
The voyage is currently funded by a French clothing company and an electricity firm. "But we are looking for more money to keep going. We need something like $ 3million per year to run the boat", Bowler said.
It was noted that oceans produce half the oxygen that we breathe. Prairies of plankton and other micro-organisms constitute, via their photosynthetic activity, an enormous oxygen pump. But these marine organisms are also a major carbon dioxide sink. As a result, the future depends on saving the oceans.
Tara Oceans expedition seeks to study oceanic ecosystems for a better understanding of the threats faced by them. It would attempt to provide answers to climate issues and in particular, to deepen knowledge on marine biodiversity.
Oceans' ecosystem remains one of the least-explored fields of oceanography and, therefore, the least well-known to man, despite its extensive and rich biodiversity.
"But today this marine life is threatened by the major ecological upheavals of climate change and pollution. Will marine ecosystems survive to these disruptions? Are we going towards a transformation of oceanic life?", Bowler asked.
Tara Oceans is an expedition that cruises the seas of the globe. The urgency of the situation, as well as the scope and characteristics of the expedition is making it an extraordinary voyage around the planet, to help understand its origins, evaluate its present state and to preserve its future, officials said.