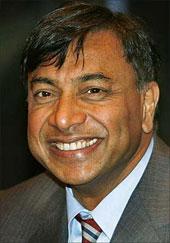 Non-Resident Indian billionaire Lakshmi Mittal has said he does not want a cricket team in the Indian Premier League, and was "glad" for not having bought one already, given the recent controversy shrouding the twenty-twenty format of the game.
Talking to PTI about the Indian Premier League (IPL) -- which is said to have an estimated brand value of over $4 billion (around Rs 18,000 crore), Mittal said, "I am glad I did not participate in it."
"No, these are all rumours," ArcelorMittal CEO and chairman said in reply to a query if he was looking to buy a cricket team.
The steel tycoon said that IPL requires a lot of time and attention and so it was not making any sense for him to take part in it.
"I was not really interested in participating in any IPL. It requires a lot of attention and time, I am not based in India so it was not really making a lot of sense," he added.
Many industrialists like Reliance Industries' Mukesh Ambani and UB Group's Vijay Mallaya run IPL franchises.
"My son in law is interested in sports but we were not keen to participate in IPL," he added.
Though he is not keen on IPL, Mittal has been actively backing sports in India through the Mittal Champions Trust (MCT).
The MCT has been supporting badminton star Saina Nehwal and Olympian boxers Akhil Kumar and Jitender Kumar among others. The trust has also been supporting shooters and wrestlers.
The IPL has been the centre of a storm for the past few weeks for alleged financial irregularities, nepotism and bid rigging.
The charges even led to the removal of Minister of State for External Affairs Shashi Tharoor and suspension of IPL Commissioner Lalit Modi.
Modi got into fresh trouble with BCCI last week, as the cricket board issued a showcause notice to him after the English cricket board accused him of inciting counties to overpower their governing bodies and the players to revolt if not allowed to play in the IPL.
A probe by BCCI has been initiated to look into the charges.