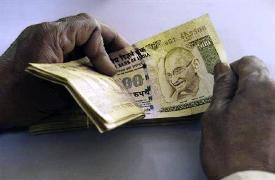 With everyone waiting for the Reserve Bank of India to cut rates, there is a belief that we will move towards a lower interest rate regime sooner than later. And banks, which have abstained from cutting deposit rates aggressively, are also likely to transmit the rate cuts.

For risk-averse individuals or ones who invest in debt instruments, this is bad news as debt instruments were giving them some returns.

For instance, debt funds (gilt medium and long term) have given returns of 9.09 per cent in the last six months -- the best among all mutual fund categories.

But, there are options in the debt category that are still offering good returns.

A non-banking finance companys like Mahindra Finance is giving an annual rate of 12.21 per cent on deposits.

Then there is realty major Unitech that is offering a whopping 15.07 per cent a year.

Financial planners are advising some of these products, albeit with a warning that some of these could be risky.

"Those who are willing to take the credit risk can opt for company deposits," says Bengaluru-based certified financial planner Anil Rego.

You need to be careful, especially with companies offering astronomical rates because sometimes they are too good to be true. Here a little due diligence would help.

That is, look at the credit rating.

Mahindra Finance has AAA rating (high rating = high safety).

HDFC (AAA rating) is offering a more modest 8.9 per cent and PNB Housing (AA ) is giving 9.30
per cent.
On the other hand, schemes floated by Unitech and Ansal Properties (12 per cent) have no rating.
Compare the returns with bank deposits -- State Bank of India's one-year deposits are offering 6.50 per cent, ICICI Bank is offering 7.25 per cent and HDFC Bank eight per cent.
This means you can earn at least three per cent extra (on good rated companies) or more, on investing in company deposits.
Importantly, if RBI cuts rates, the rates of company deposits are also likely to fall.
Hence, this could be a good time to tap some of these schemes.
This could specially be helpful to those in the low income tax bracket, who need regular or additional income.
Even senior citizens could divert a small part of their savings towards this instrument for regular income.
Financial planner Suresh Sadagopan says high interest rate is not all that you should consider before investing in these schemes.
"Analyse if the company will be able to pay you according to its commitment and on time.
"If a company is ready to pay you two to three per cent more than the market rates, it involves risk." The trade-off between bank and company deposits may not be much in the long-term, he adds.
Financial planners recommend 20 per cent exposure in company deposits in the overall debt portfolio and only ones with high ratings – AAA or AA .