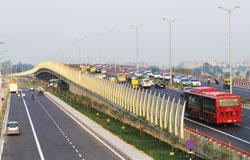 Gammon India is reeling under many issues common to the infrastructure sector in the past two years -- slow progress of projects, payment crises and reduced spending by the government.

It is also undergoing corporate debt restructuring, of Rs 14,814 crore (Rs 148.14 billion) of loans.

Slowdown in the power sector has been the primary cause of the breakdown in the payment cycle.

Gammon had a number of transmission line projects under the rural electrification scheme.

As state electricity boards fell into their own debt crisis, which they are yet to recover from, payments for these projects had dried, too.

Two years on, the company has payments pending from the governments of Jharkhand, Chhattisgarh and Uttar Pradesh.

Its total of stuck receivables are Rs 2,200 crore (Rs 22 billion). "A lot of the money is still stuck in rural electrification projects.

"In the next year or so, we should see things getting streamlined," Girish Bhat, chief financial officer, told Business Standard.

SEBs, themselves victims of slow rises in power rates, have started slowly raising these, after getting permission to do so.

This would ease their cash situation, enabling them to pay vendors such as Gammon.

However, that is a slow process and would take between nine months to a year, the company believes.

And, while a large part of its order book remained either unpaid for or stuck in progress, new orders had also dried.

"The infra sector got into a lot of trouble due to liquidity crunch. Low growth in gross domestic product has an impact on infrastructure and vice versa,"
said Bhat.
In the past two years, various infra projects had almost stopped generating orders.
When a few of these did, there was so much competition that Gammon saw little merit in bidding. "The returns were very low," said Bhat.
On orders, however, Gammon has seen some green shoots.
In the past six to nine months, orders have been improving and the company is confident the increased orders will help a turnaround in the next two to three years.
Since April, it has bagged fresh orders of around Rs 5,000 crore (Rs 50 billion).
"These (new) orders are not in the power sector.
"They are in the construction of bridges, water supply and metro rail projects.
"The hydro sector is also doing well.
"So, some things are looking good," said Bhat.
The order book is currently at Rs 15,000 crore (Rs 150 billion).
Also, bankers of the recast are helping the company by reducing interest rates by around one per cent.
They have also given fresh loans, so that they can complete some projects stuck due to cash crunch and to release more payments.
The debt recast is spread over 10 years.
Apart from slowdown, a few business decisions had also played their part in Gammon's huge debt.
A few years earlier, the company decided to go into real estate and had purchased land tracts in the suburbs of Mumbai, in Dombivili, and in Bhopal.
"That had increased our borrowings and added to our interest payments," Bhat said.
Gammon is now looking to develop all its land banks as soon as possible.
It has yet another tract in Andheri, another populated suburb in Mumbai.