The world's second largest airport operator Fraport of Germany on Wednesday said it will exit the Delhi airport by selling its entire 10 per cent interest and is in discussions with JV partner GMR Group in this regard.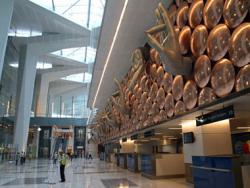 "We expect the process of selling our 10 per cent holdings in the Delhi airport to be done by next June," Fraport vice-president for global investments Kai Zobel told reporters in Mumbai.
That would mark the complete exit of the German major from the country, as in June it had said that it would be shutting its development centre in the country.
However, he added that the company "is open to further investments in this country but we would like policy clarity before that."
Fraport picked up 10 percent stake in Delhi International Airport (Dial) in 2006 as part of the consortium formed by GMR Group after bagging the concession agreement from the government.
The other major partner in Dial is the state-run Airports Authority, apart from Eraman Malaysia.
The move also comes as Fraport's role as an operator will lapse next May under the agreement JV with.
However, Zobel said his company is keen on looking at the proposed Navi Mumbai airport. "But we don't want to simply play the role an equity player," he told reporters on the sidelines of the last day of the two-day Capa summit.
In June Fraport had said they would be quitting the country due to policy and project delays and would also be shutting its development office.
Early this month, the GMR Group had been quoted as saying in a section of the media that it was ready to buyout its partners in Dial.
GMR, which leads the consortium, holds about 54 per cent stake in Dial, the Airports Authority 26 per cent, and Fraport and Malaysian airport company Eraman Malaysia have 10 percent each. While Fraport is the airport operator and Eraman Malaysia is the retail advisor. There are other minor investors, too.
In January 2006, the GMR-led consortium was awarded the concession to operate, manage and develop the IGI Airport following an international competitive bidding.
Dial entered into an operations, management, and development agreement with the AAI on April 4, 2006. The initial term of the concession is 30 years, extendable by a further 30 years.