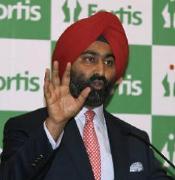 Malvinder Mohan Singh and Shivinder Mohan Singh, the promoters of Fortis Healthcare, will acquire key subsidiaries of Hong Kong-listed Quality Healthcare Asia (QHA) for HK$1,541 million (approximately Rs 882 crore). QHA is the largest private integrated healthcare service platform in Hong Kong.
The firms, which will be acquired by the billionaire Singh brothers, include Quality Healthcare Medical Services and Quality Healthcare Services.
In 2009, the two entities together accounted for HK$82.8 million (Rs 47.4 crore), or 93 per cent, of QHA's operational profit of HK$89 million (Rs 50.9 crore).
The other subsidiaries which are part of the deal are Quality HealthCare, Quality HealthCare Medical Holdings, and Portex.
The acquired businesses comprise a network of over 60 wholly-owned medical centres, 500 affiliated clinics, 40 dental and physiotherapy centres, and a private nursing agency, with a database of over 3,000 nurses, according to a statement by Fortis Global.
The acquisition, to be made by Altai Investments, the investment arm of the promoters' holding firm, Fortis Global Healthcare Holding Pte Ltd, comes three months after the Singh family bowed out of a race for a controlling stake in Singapore-based hospital chain Parkway Holdings.