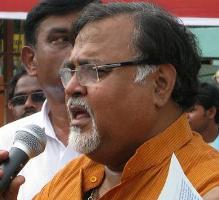 West Bengal Parliamentary Affairs minister Partha Chatterjee (photographed) on Friday expressed despair over Ratan Tata's remarks that there was no sign of industrialisation in the state.

"I am pained at Ratan Tata's remarks that there are no signs of industrialisation in the state," Chatterjee, who held the industry portfolio before his present assignment, told reporters in Kolkata.

"Tata had driven from the airport to a hotel through Rajarhat, a route which is not supposed to have any industry as it was an evolving township housing numerous residential complexes and offices.

"But Tata said that he did not see any signs of industrialisation while driving along this route. How is this possible?" he wondered.

Although Tata said that there were beautiful buildings coming up in Rajarhat, he must have interpreted it incorrectly by
saying so.
"Had he driven through the electronics complex at Salt Lake, Tata could have seen the existence of several IT companies operating in the region," the minister said.
Continuing with his criticism, Chatterjee asked would anyone see any industry on the route from Mumbai airport to the city.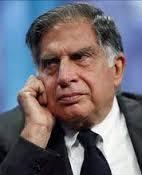 "Tata
(photographed)
had come to the city after two years as he said.
He could have made the unwilling farmers of Singur happy by returning their land which he didn't," he said.
On Wednesday, chairman emeritus of Tata Sons Ratan said that while driving from the airport through Rajarhat, he came across beautiful buildings but it looked like a countryside under development with no signs of industrialisation.
Tata's remarks were strongly countered by state industry minister Amit Mitra, who said "he may be suffering from delusion".