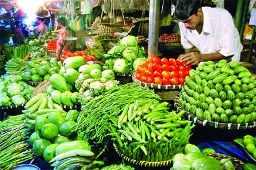 While a sharp divide between the National Advisory Council, the government and the Rangarajan committee on the Food Security Bill still exists, Union Minister for Food and Consumer affairs, K V Thomas, on Thursday began efforts to reconcile the differences.
Thomas said he agreed with the NAC in principle, but a few practical issues needed to be sorted, according to NAC member N C Saxena.
Thomas said the views of the NAC, the Rangarajan committee and the Food Ministry were not irreconcilable. There are differences but we can find solutions to all these, he said.
The main difference has been on including people above the poverty line in the Food Security Bill, which aims to entitle people to 35 kilogrammes of food grains at Rs. 3 a kg.
The Rangarajan Committee had suggested the quantity of foodgrain entitlement per family, for APL families, not only be reduced, but also be kept out of the legal framework.
The panel has also kept millets out of the grains, which the Bill will offer. Thomas refrained from disclosing his views on the matter, either at the NAC working group meeting on Thursday or while talking to Business Standard.
He, however, said it is a wrong impression that the Rangarajan committee has rejected the views of the NAC.
There are only some differences of opinion, which can be sorted out. He said ever since the President's speech in 2009, much progress has been made on the issue.
The President had suggested that 25 kg/head of food grains be given to families below the poverty line at Rs. 3/kg, emphasising that the President had asked for subsidised food only for BPL families.