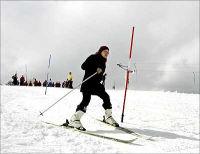 To make India an attractive round the year tourist destination, the government should take steps such as enhancing air and rail connectivity, strengthening hotel infrastructure and setting up of a skills development council for the sector, a survey said on Thursday.
"There is an urgent need to address the issue of creating good quality accommodation not only in the five-star categories but across all categories and across all states," the Ficci-Yes Bank survey said adding hotel infrastructure needs a big boost in the coming years.
The state tourism department hotels which are not doing well should be leased to the private sector on a long-term lease basis as has been done in Tamil Nadu, Madhya Pradesh and Rajasthan, it said.
To attract international tourists, air connectivity should be enhanced in states like Kerala, which have great tourism potential but limited international connectivity.
"Development of central India particularly Madhya Pradesh and Chhatisgarh requires the presence of an international airport at Bhopal to
develop the region as a tourist hub," it said adding there is also a need for tourism related websites in different international and local languages.
The survey also suggested augmentation of road and railways infrastructure.
Development of road infrastructure in the north-eastern part of India can boost tourist inflows, it said.
It further said the government's expenditure on tourism sector as a percentage of the total budget is the lowest as compared to its competitive neighbours.
"Nations like Thailand, Malaysia and Singapore, which have developed their tourism infrastructure to a great extent, are still contributing a substantial amount in developing tourism in their country," it said.
There is also a need for a unique partnership between industry, academia and government through setting up of a skills development council to enhance the productivity of the workforce employed in this sector.
"Indian hotels continue to remain inefficient in their manpower utilisation," it said.
Proper data collection of statistical information is necessary for the states to plan new strategies to promote tourism industry, it added.