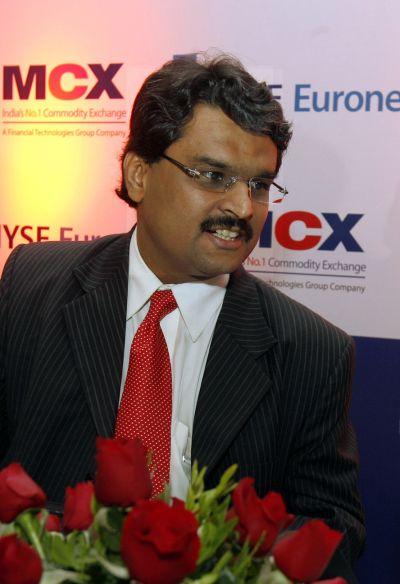 In a severe indictment, commodity market regulator FMC has said Jignesh Shah and his firm FTIL are not 'fit and proper' to run any exchange in the country and charged him of being the "highest beneficiary" in the NSEL scam.
Shah founded Multi-Commodity Exchange or MCX in November 2003 and then went on to set up a stock exchange this year. He is currently the Chairman of Financial Technologies India Ltd (FTIL) which owns and runs National Spot Exchange Ltd (NSEL) where a Rs 5,500 crore (Rs 55 billion) payment crisis is being probed by multiple agencies.
In an 80-page order, the Forward Markets Commission (FMC), which went into the running of NSEL following payment defaults, held that FTIL is not a 'fit and proper person' to hold anything more than 2 per cent shareholding in the MCX.
FTIL currently has 26 per cent stake in MCX, the country's largest commodity exchange and will need to cut its stake following the FMC order. Shah on October 9 quit as Vice-Chairman and Shareholder Director of MCX-SX, the third major stock exchange in the country. Few weeks later, he also resigned as Vice Chairman of MCX.
Noting that Shah was "practically the highest beneficiary of the fraud perpetrated at the NSEL Exchange", the FMC ordered that "Shri Jignesh P. Shah is not a 'fit and proper' person to hold any position in the management and the Board of any Exchange recognised or registered by the Government of India/Forward Markets Commission under FCRA, 1952".
FMC also ordered Joseph Massey and Shreekant Javalgekar, former directors of MCX, not a 'fit and proper' person to hold any position in the management and the Board of any Exchange.
"The Commission is of the view that the general reputation and character, record of fairness, honesty and integrity of Shri Jignesh Shah has been substantially eroded in view of his role in the affairs of NSEL as its Vice-Chairman & Director and also as the Chairman of the holding company of NSEL," the order said.
It further directed that neither Shah individually, nor though any company/entity controlled by him, either directly or indirectly, should hold any shares in any association/exchange in excess of the threshold limit of the total paid-up equity capital as prescribed under FMC guidelines.