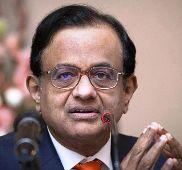 Finance Minister P Chidambaram is likely to attend the annual retreat function of the Department of Economic Affairs officials on Saturday.

"Finance Minister P Chidambaram will attend the sixth annual retreat of DEA officials at the National Institute of Financial Management in Faridabad tomorrow," a senior Finance Ministry official said.

DEA Secretary Arvind Mayaram is also expected to attend the event.

Actress Nandita Das and cricketer Gautam Gambhir have been invited for the annual break, according to officials.

Last year, actress Chitrangada Singh and lyricist Javed Akhtar had attended the retreat.

A cricket match between DEA officials NIFM trainees is also being planned.

Officials of rank of deputy directors and above are part of the retreat.

The annual retreat of DEA officials started six years ago by the then DEA Secretary D Subbarao to promote camaraderie among officials of various ranks and provide a break from office work.

At the 2009 retreat, the ministry had invited filmmaker Shekhar Kapur to hold a workshop on cinema. In 2010, actor Aamir Khan had attended the retreat.
Image: P Chidambaram