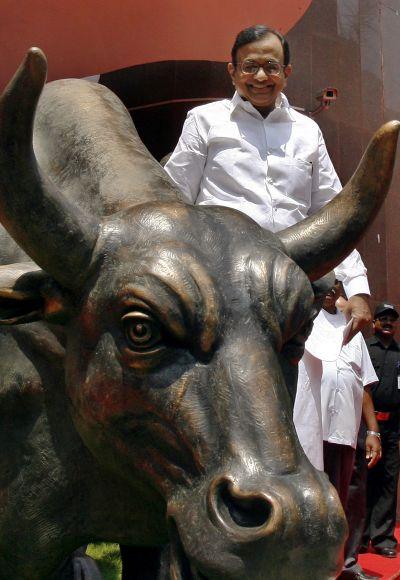 With the stock markets scaling new heights, Finance Minister P Chidambaram on Friday sounded a note of caution and asked investors to guard against excessive exuberance.
"The markets seem to be very happy. More than anyone else, the markets seem to welcome the RBI and government measures. But I would caution investors against excessive exuberance," he said.
The benchmark Sensex on Friday climbed to an all-time high of 21,293.88 in intra-day trade and ended at a closing record of 21,196.81. It was the fourth day of gains for the stock markets after the Reserve Bank of India on Tuesday eased liquidity for banks while increasing a key interest rate.
The RBI reduced the marginal standing facility (MSF), which is an additional borrowing window for banks, to 8.75 per cent. The MSF rate had been hiked to 10.25 per cent on July 15 as part of liquidity-tightening measures taken to curb volatility in the rupee's exchange rate.
The central bank also increased the repo (lending) rate for banks to 7.75 per cent. It said both wholesale and consumer price inflation are likely to remain elevated in the months ahead, warranting an appropriate policy response.
Chidambaram said the RBI's policy should be seen in the context of not only high inflation but also currency depreciation.
"I am happy that in two successive policy statements the RBI has able to withdraw almost entirely all the monetary tightening measures. We are now back to normal monetary policy, where the difference between repo and MSF is 100 basis points," he said.
Chidambaram said the rupee has by and large stabilised against the dollar, although, in his view, it is still a little over the appropriate exchange rate. "There is no such thing called appropriate exchange rate, but giving my personal view, it is slightly over the appropriate exchange-rate level," he said.
The rupee closed at 61.74 against the dollar today. It had touched an all-time low of 68.85 on August 28.
Chidambaram said he was confident that the government would be able to pass about a dozen Bills, including those on insurance and the securities market, in the winter session of Parliament.