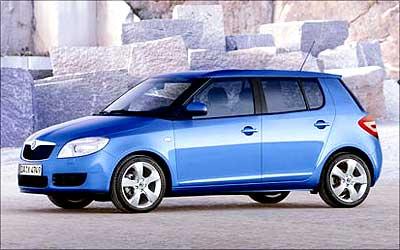 Skoda India, a fully-owned subsidiary of Volkswagen Group's SkodaAuto of Czech Republic, on Wednesday revealed the company's plan to launch Skoda Fabia, its first small car in the Indian market.

"We plan to launch the car by the end of this year. Fabia is very well accepted globally and with our experience in the car business, we are confident of receiving a similar response from the Indian customers as well," Skoda India managing director (commercial) Karsten Bogun said.

Bogun was talking to reporters in Ahmedabad after the opening of the company's new dealership
in Vadodara and Ahmedabad.
"Skoda India is glad to bring two new dealership to Gujarat, the most industrialised state in India today. We do believe that these dealership will play a vital role in increasing our costumers in Gujarat and will also help us to achieve a bigger market here," he said.
The company, he said, plans to expand its dealer network to 58 states across the country by end of this year.
In the last five years, SkodaIndia has sold over 43,000 units. This year the company has set a sale target of 17,000 units. The company has a plant in Aurangabad district in Maharashtra, spread across 300,000 square metres. (PTI)