Finnair has said that flying from Helsinki to Bangalore and Chennai, where Finnish companies have a large business presence, is part of its expansion plans, besides leveraging from an alliance with Kingfisher Airlines in India.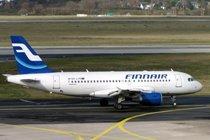 "Bangalore and Chennai are definitely on our radar...One thing that OneWorld (feels) very important (about) is the quality of our partners... Kingfisher clearly is, from the quality point of view, the airline of choice in India," Finnair CEO Mika Vehvilainen said.
Kingfisher Airlines was inducted into the global airline OneWorld earlier this year and this would allow partner airlines to sell routes operated by the Indian carrier. Vehvilainen, however, said that it has no immediate plans to start operations to Bangalore or Chennai.
Also, there were no plans in the near-term to resume services to Mumbai.
Finnair has said that it would start daily service between New Delhi and Helsinki from January next year, up from the six flights a week it operates now.
The air carrier reduced its service to New Delhi from seven to six days earlier this month.
Two years ago, it suspended the service to Mumbai because of poor demand. Under the present bilateral air services agreement between India and Finland, Finnair can operate daily services to three Indian cities.
Asian routes continue to drive growth in the airline, which plans to increase service to Hong Kong to 12 flights a week from daily now, besides start flying daily to Singapore from next year.
Asia accounts for nearly half of the airline's revenue. Over 100 Finnish companies have operations in India and several Indian firms have set up shop in Finland. Besides, the carrier hopes to carry traffic between India and the rest of Europe and to the US.