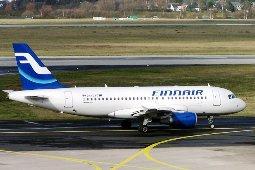 Identifying India as an important destination, Nordic air carrier Finnair said on Wednesday it is forging partnership with Kingfisher Airlines and American Airlines to increase passengers traffic to and fro in between India and Europe.

"India as a powerhouse of the world holds special importance for us for the growth in the next one decade," Finnair chief executive officer Mika Vehvilainen told reporters in Finland's capital city.

"We are in talks with Kingfisher and American Airlines for greater mobilisation of traffic, corporate as well leisure, to and fro in between India and Europe," he said, outlining vision 2020 of the Finnish airlines.

Kingfisher will be mobilising more passengers from different cities of India to Europe while American Airlines would add more passengers from North America to India, he added.

Finnair flies six-days a week (except for Tuesday) from New Delhi to Helsinki.

Finnair cargo is starting cargo service between Mumbai and Helsinki from September 16, 2011.

"More destinations like Mumbai, Bangalore, Chennai and Hyderabad are on our radar," the Finnair CEO said.

According to Vehvilainen, passenger traffic from India at present is seasonal. "We get good amount of traffic, particularly business travellers, in summers but winter is a hard time for us on this route," he added.

In reply to a question about adding up leisure tourists traffic from India to Finland, also known as 'Land of Santa Claus', the Finnair CEO said this was a priority
area for the airline.
Vehvilainen said Asia holds tremendous growth potential for the global aviation industry in the next 15 years. He said Asian routes were currently fetching about 65 per cent of the earnings of the Finnish airlines.
Keeping this in mind, Finnair is targetting to double frequency  of planes from the largest continent (Asia) to Europe from 74 to 140 a week.
Finnair is running nearly 20 flights a week from Japan now.
It is running a large number of planes from China, Hong Kong and Singapore besides New Delhi.
The Finnair CEO said that about 30 million passengers fly from Asia to Europe annually at present.
"We are trying to target the transit passengers from Asia to different locations of North America like Burmingham, Manchester and Hamburg among others that do not have a direct flight services presently," he added.
The Finnair CEO said more and more Asians are being recruited in the airline to make it popular in the continent.
He, however, said that although Asia holds tremendous future growth scope for the airlines, it would maintain its services  in the Europe where it is a dominant player.
Vehvilainen said to monitor quality service of the airlines, it has recently launched quality hunters scheme in partnership with Helsinki airport.
Under this scheme seven quality hunters will fly to Asia, USA and Europe and report on the quality of services, including on board services, cleanness and behaviour of staff towards the passengers of the Finnair, and take corrective steps to plug the lacunae highlighted.