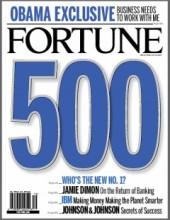 After three years of waiting, the ABP Group, the publishers of the Telegraph newspaper and weekly BusinessWorld, is finally launching the Fortune India in Mumbai on Friday evening, under a licensing agreement with Time Inc, the publishers of the iconic American magazine.


Significantly, Fortune India is the third country- specific edition for the 80-year-old magazine, in which the nation's first prime minister Jawaharlal Nehru had written an article way back in 1942.


And the launch issue will have Nehru's article reproduced, Fortune India editor D N Mukerjea told PTI at a pre-launch interaction in Mumbai on Friday.


Currently, Fortune has only two other editions -- the Fortune in the Chinese language and Fortune Turkey, apart from the American edition.


The ABP Group had entered into an agreement with the Time Inc of the Time Warner Company late October 2007 to publish the iconic magazine.


But
both the parties had to wait nearly three years to get various government approvals. Finally, the companies got the nod from the I&B ministry in February this year.
Mukerjea said the launch issue is priced Rs 100 and will have nearly 200 pages.


The editorial office of the magazine is in New Delhi but will be printed in Hyderabad.


The magazine is being published with under a licensing agreement with Time and the Indian editorial team has the freedom to choose the content, Mukerjea said, adding however, the look and feel of the magazine will not be dissimilar.


"We will give the same look and feel as well as the experience of reading the American edition," Mukerjea said.