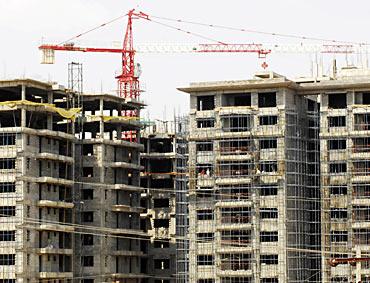 Despite attractive offers and discounts, the realty players have not been able to revive market sentiments post Diwali in Tier-II towns of Punjab and Haryana.
Channel partners and consultants in the business said business in festival season has been slower this year compared to last year's. The percentage drop in sales this festival season, according to consultants, could be in double digits.


Manoj kashyap, regional director, Jones Lang Lasalle, a real estate brokerage firm says the real estate market in the festival season has not taken off as expected.
"There is an overall slowdown persisting in the market due to absence of price revision in the markets. With hardly investors left the end users are looking for downward revision in prices, but with revision not happening it has slowed down the pace of real estate."
While developers not revising prices downwards as per people's expectation is one factor, says channel partners another reason could be lack of participation by investors.
Raman Khurana from Propinvest.in ,an online real estate consultancy company , says there is definitely a slowdown in real estate market(residential) this year.
Khurana who also is into investment advisory business says investors now are looking to invest in distress sales. Moreover more investment now a days is happening overseas, where property prices are attractive.
Tarundeep Singh Takkar , Director Investment , KBK infra, another real estate advisory consultant says the political turmoil happening in the centre , has resulted in low credibility among the investors overseas.
The overseas investors are thinking twice before investing here. KBK infra which also has investment advisory says in two of their projects they have seen a 50-60% decline of investors. Attractive prices in overseas countries, also is attracting the NRIs ,who now are willing to invest in real estate in their own countries.
KBK infra has bought a residential project in Thailand recently.
Commenting on the situation back home Tarundeep Singh since developers are unwilling to revise the prices downwards, it is impacting the sales for them. Developers instead of absorbing hike in input prices are passing those prices to users thus making properties costlier.