Union Agriculture Minister Sharad Pawar on Tuesday asserted that foreign direct investment in retail was in the interest of farmers and consumers across the country.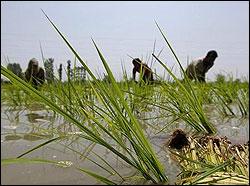 The fears that the FDI in multi brand retail would badly affect interests of the small shopkeepers and traders were unfounded, Pawar told reporters after inaugurating the seventh national conference on "Krishi Vigyan Kendras–2012" in the Punjab Agricultural University (PAU) premises in Ludhiana.
On the trend of paddy-wheat cycle in Punjab, he said it was not only affecting fertility of the agricultural land, but was also causing depletion of underground water in the state.
Pawar said discussion had been held with Punjab government on the need to change this cycle and he would also discuss the issue with Punjab Chief Minister Parkash Singh Badal.
He said the Punjab government should look at bringing more area under the cultivation of oil seeds and pulses.
The Minister said the Centre's main focus was to bring a second revolution by encouraging maximum paddy cultivation in Eastern parts of the country, including Uttar Pradesh, Bihar and Chhattisgarh.
Replying to a question, he said the MSP on wheat was likely to be announced within a week.
On the issue of storage of food grains, Pawar said the Centre was working towards increasing storage capacity of food grains by setting up more godowns.
He said higher land prices in Punjab and Maharashtra were becoming obstacles in this regard.
Earlier, during his inaugural speech at the three-day conference, Pawar lauded the role played by PAU and the Punjab farmers for enhancing agriculture production in the country.
He praised the role of Krishi Vigyan Kendras in the country  while stating there was need to do more towards upgradation of technology in the agriculture sector.