The Department of Industrial Policy and Promotion (DIPP) has finally sanctioned the proposal of allowing foreign direct investment (FDI) from Pakistan. But the final notification will be issued by the Reserve Bank of India (RBI) within the next couple of weeks. The move will be unprecedented in the bilateral trading relations between both the nuclear-armed neighbours.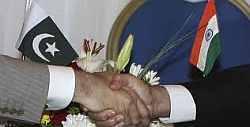 RBI is awaiting final clearance from the ministry of finance, after which the notification will be issued. The finance ministry will make the changes in the Foreign Exchange Management Act (Fema).

"Within the next seven to eight days the notification is expected to come. Everybody from the finance ministry to RBI and DIPP has given its in -principle approval. Subsequently, the DIPP will incorporate the changes in the FDI policy," a top government official told Business Standard.

The official also said that initially all kinds of FDI from Pakistan will be entering the country through the Foreign Investment Promotion Board (FIPB),
which is headed by the Economic Affairs Secretary in the finance ministry, to address security concerns. The same was done in the case of Bangladesh.
The move will be formally communicated to Pakistan during the upcoming commerce secretary-level talk that is likely to take place in July. The meeting was earlier scheduled to take place in May in Islamabad, however, it was postponed as Pakistan wanted some more time to finish the pending proposals.
Recently, Commerce, Industry and Textiles Minister Anand Sharma said there will be no limit on the quantum of investment and that such a move would only strengthen the bilateral trade ties between both the countries.
"We have allowed Indian investments in Pakistan and Pakistan's investment, whatever is the amount, to come to India. We are clear that without engaging with Pakistan, South Asia Free Trade Agreement cannot move forward," Sharma said.
According to the present FDI norms, FDI from an entity established in Pakistan or a resident of Pakistan is barred from investing in India.