"This is scary. Orders are not coming, demand is dead, input costs are so high. How are we to sustain this business?" asks a nervous Navratan Samdaria, a Delhi-based handicrafts exporter.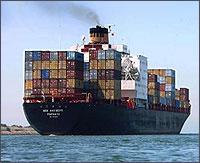 With the US economy in financial downturn, Indian exporters fear the spine-chilling days of 2008-09, when exports fell 25-30 per cent, would return.
The US and European markets account for 35 per cent of export revenue and a big portion of volumes.
Growth in merchandise exports from India had been averaging a rate of 45-47 per cent since the beginning of the financial year in April. However, Commerce Secretary Rahul Khullar had been asserting for some time that "it is not going to be easy" for Indian exports from October on.  He had also warned of a moderation of growth rates from the second quarter.
In the first quarter, ending June, exports grew 45.7 per cent to $79 billion from $54.2 billion in the corresponding period last year, while cumulative imports reached $110.6 billion, up 36.2 per cent, led by oil imports.
"The outlook is clearly negative. In the event there is devaluation of the dollar, the consequences could be disastrous. However, so far we have not seen any country going into default in the EU and as far as the US is concerned, barring just one, other rating agencies have retained their outlook. So, the reaction is more sentiment-driven.
However, export growth is going to come down to 30 per cent in the second quarter," said Anis Chakravarty, director, Deloitte Haskins and Sells.
The sovereign debt crisis in the euro zone, weakness in the US and moderation of economic activity in China may significantly affect external demand.
This could be detrimental to the recently gained momentum in India's exports, as these economies were India's major trading partners, said Ficci.
Exporters also blame a number of domestic factors. "The government should look at the cost of finance, which has gone up to 11.3 per cent from 7.1 per cent in October 2010. There is a high chance of payment default emerging from the European banks.
The situation is like what it was in 2008-09. Exports might go into negative territory if certain policy changes are not done," said Ramu S Deora, president, Federation of Indian Export Organisations (FIEO).
In 2010-11, India's export to the US and EU were $19.8 billion and $45 billion, respectively. The main items were gems and jewellery, textiles, meat products, cereals, chemicals, metals and others. 
Exporters also fear that in the event the US dollar was devalued, that would trigger a chain reaction. In such a scenario, even growth from newer markets such as the UAE, Southeast Asian nations, Latin America and Africa would dwindle because these markets might not be able to finance imports, according to FIEO director general, Ajay Sahai.
"We see a significant softening of export growth rate in the second half of the year. There is no doubt that downgrading of US ratings would induce renewed uncertainty and renewed slowdown in growth.
But I do not see exports going negative as in 2008-09, because a sizeable part is now going to markets other than the US and Europe. And, unlike 2008-09, this time the shock factor is less, though this time we are again seeing a collapse in growth and unstable financial markets," said Siddhartha Sanyal, chief economist, Barclays Capital Research India.