The fear of being boycotted by large US stores like WalMart, JC Penny and GAP has led Indian apparel exporters to formulate a code to eliminate child labour from Rs 46,000 crore (Rs 460 billion) garment export business.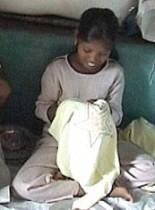 The Apparel Export Promotion Council, garment exporters' apex body, has circulated a draft code of 'dos and dont's' among its members.
It is expected to be finalised in the next two months, the AEPC said. It said the apparel exporters were also being advised to follow environment-friendly practices.
Indian exporters face the threat of the US Labour Department branding India as a country that allows child labour in apparel making for the second year in a row.
A country is known to be using child labour, if it is included in the Executive Order 13126 List and Trafficking Victims Protection Reauthorisation list of the US Labour Department.
 Last year India was included in both these lists that were circulated among the top American retail stores like WalMart, JC Penny, GAP and Diesel.
Now, AEPC with the help of funding from the Textile Ministry, has hired a Washington-based lobbyist firm Sidley Austin LLP to get its exporters off the hook. Creating a positive image among the American opinion leaders is important for the association before the Labour Department reviews its list in September.
"The code would ensure elimination of child labour, compliance with environmental requirements like chemicals, hazardous substance, domestic sewage, waste handling, personal protective equipment and recycling practices," AEPC said.
Once the code is formulated, apparel manufacturing units would ensure that any child who is found to be working in a factory, is provided education.
The exporters are worried that if India keeps featuring in EOL and TVPRA for a few more years, it could lead to enactment of a US law, which would force its buyers to stop placing orders with Indian suppliers.
In 2009 calendar year, the US accounted for about 30 per cent of India's total apparel export worth $10 billion.