The 500 Euro note is no longer available in the UK, after officials stopped its circulation on the basis of evidence that over 90 per cent of demand in the country came from criminals.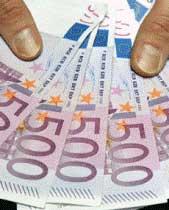 Banknote wholesalers the companies that supply money service bureaux have stopped supplying the note after evidence from the Serious Organised Crime Agency showed that over 90 pe cent of UK demand came from criminals.
The 500 Euro note, however, has not been criminalised. People will still be able to pay it into bank accounts here if they bring it back from abroad, but they will no longer be able to get hold of it over the counter in the UK.
SOCA officials said that crime was a cash-based business and paying large amounts of cash into the banking system attracted unwelcome attention. Instead, criminals tried to reduce the bulk of the cash as far as possible and move it undetected out of the country.
Exchanging low denomination notes for high denomination notes has historically been a favourite way of doing this, and the phenomenon is seen globally, regardless of the currency.
However, this is the first formal analysis of the UK market, and for the first time there is hard evidence of the scale of criminal abuse of the 500 Euro note.
The SOCA announcement means that accessing 500 Euro notes will be much more difficult. Anyone trying to source them will attract attention.
There will be a significant increase in the risk to criminals attempting to move and launder money.
Left with larger volumes of cash to manage, it will be harder to conceal their movements and harder to take cash through borders undetected.
In addition, SOCA and its partners in the financial sector, in law enforcement, at borders, and internationally will now be watching for changes in demand for other high denomination notes and any other activity that criminals might turn to in an attempt to get over this obstacle.
SOCA Deputy Director Ian Cruxton said: "There is no doubt that the main UK demand for the 500 Euro note comes from serious organised criminals. The banknote wholesalers have shown decisive leadership in withdrawing supply. This is a bold and welcome move which will cause substantial disruption to criminals' ability to move and launder large quantities of cash."