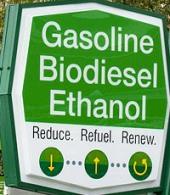 The project of deriving ethanol from a seaweed is all set to get a major boost with the Central Salt and Marine Chemical Research Institute deciding to ramp up off-shore production of the weed by manifolds.
The joint project of Council of Scientific & Industrial Research (CSIR) and Ministry of New Renewable Energy (MNRE) is expected to give a major push to efforts in the country for producing ethanol, a bio-fuel, from sources other than cash crops like sugarcane.
"We are planning to increase cultivation of ethanol producing seaweed - Kappahycus alvarezi - say in a few hectares of area about 5 to 10 km's inside sea with the help of over 1,000 bamboo rafts," CSMCRI director Dr Pushpito Ghosh told
PTI
.
The institute has already demonstrated cultivation of seaweed inside 2-3 km of sea on the bamboo rafts, without using any pesticides.
"The sea venture shall be advantageous in two ways. Firstly, the sap derived from seaweed will help raise the nation's sugarcane yield by 10 to 30 per cent, secondly the seaweed bio-mass will be a source for ethanol," he said.
Ethanol is used as blend with petrol to lower emission levels. The Centre has fixed 2012 as the deadline for making 10 per cent ethanol blend with petrol mandatory, industry sources said.
"On filtering fresh seaweed crush we get sap, which is a bio-fertiliser. The residue solid contains polysaccharides, which is then converted into sugar and fermented to produce ethanol," Ghosh said, explaining the process of obtaining ethanol from the seaweed. Sourcing millions of tonnes of ethanol from material other than sugarcane to run cars on blended fuel has been a major challenge before the nation.
The issue has time and again raised concern over the country's food security. CSMCRI is also in the process of optimising the technology to scale up extraction of ethanol from the seaweed so as to make it more commercially viable.
"Efforts are underway to optimise the technology to scale up extraction of ethanol from seaweed bio-mass to upto 10 litres level," Ghosh said.
The institute had produced one litre of ethanol extraction from a certain quantity of seaweed bio-mass and successfully run an Ambassador car on blended fuel (10 per cent ethanol with petrol), in the past.
"Off-shore seaweed cultivation doesn't require land or pesticides. At the same time it offers livelihood opportunity to people living in coastal belts," Ghosh said.
CSMCRI has recently filed applications for Indian patent and PCT (multi-country patent) for the process of integral production of ethanol from seaweed.
"Off late Japan and Korea have also begun exploring the possibilities of deriving ethanol from this very seaweed on similar lines," industry sources said. Seaweed so far was being cultivated extensively in countries like Philippines and Indonesia, but India is also likely to emerge as major producer of the ethanol producing seaweed, they said.