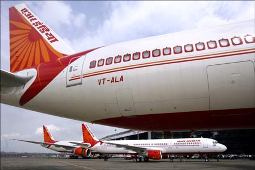 A decision on additional equity infusion in Air India is likely soon with the Civil Aviation Ministry moving a Cabinet note on the matter, even as the ailing carrier planned to conclude a debt recast package with its bankers by mid-March next year.

Confirming the circulation of the note, official sources said the Union Cabinet may take up the issue within the first fortnight of 2012.

Speaking on the national carrier's debt recast plans, they said the bankers have sought an extension of the provisioning norms over a five-year period.

Maintaining that the lenders have requested for extending provisioning norms so that the provision could be spread over extended financial years, Air India officials said the issue "has already been taken up with Reserve Bank of India and the reply is awaited".

The officials also maintained that Air India had the 'full support' of its lenders to conclude this arrangement within 120 days of the Reserve Bank of India approval, that is before
the middle of March next year.
The airline officials said the Finance Ministry has not  rejected the debt recast plans, contrary to reports.
Air India's debt recast plan as approved by RBI includes conversion of short-term working capital loan of Rs 7,000 crore (Rs 70 billion) into cumulative preferential shares and more time to repay the remaining debt amount of approximately Rs 14,000 crore (Rs 140 billion).
The airline has total of Rs 21,511.10 crore (Rs 215.11 billion) as short-term working capital loans and it pays an interest of over Rs 2,600 crore (Rs 26 billion) annually.
After its meeting with lenders in late November, the State Bank of India-led consortium of banks had made fresh representations to the RBI urging it to provide additional exemptions from provisioning on the debt restructuring plan.
The RBI, which had given a conditional nod to the recast plan last month, is likely to come out with its views on the issue by the end of this month.
The package, once approved by RBI, will go to the Union Cabinet for approval.