India's diversified stock funds posted their worst quarterly performance in over a year as fund managers' bets on small- and mid-cap shares and sectors like capital goods dented unit values, data from fund tracker Lipper showed.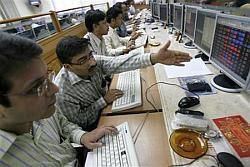 Such funds fell 7.5 percent on average during the three-month period that ended in March, underperforming the Sensex's drop of 3 percent by a wide margin, and registering their worst quarterly show since Oct-Dec 2011. In March, the funds registered a drop of 1.34 percent.

Increased risk aversion hurt Indian stocks as disappointment over the annual budget, the central bank's cautious outlook on rates and political uncertainty after a key ally withdrew from the ruling coalition resulted in shares posting their first quarterly fall in five.

However, the poor performance of funds was largely attributable to the more volatile small- and mid-cap stocks which fell much more than their larger peers during the quarter.

R K Gupta, managing director at Taurus Mutual Fund, cited pressure on margins as one of the reasons for the poor performance of these shares.

"I am afraid I don't see any immediate recovery in mid- and small-cap stocks particularly," Gupta said.

According to separate Morningstar India data, such stocks accounted for nearly 37 percent of assets as of end-Feb, and their dismal performance weighed heavily as the BSE small-cap index slumped 21.3 percent and the BSE mid-cap index fell 13.65
percent in the March quarter.
Certain sectoral allocations also hurt overall performance.
Financials and industrials, which collectively account for more than a third of such funds' assets and are among the favourite sectoral picks, struggled during the quarter as India continued to battle slowing economic growth.
Unit values remained under pressure as the BSE capital goods index fell over 17 percent during the period, with shares like Larsen & Toubro falling 15 percent and BHEL losing 22 percent. The banking index fell 9.1 percent.
With a sluggish order book still a concern for many companies, latest industrial output data showed that India's capital goods output - which has grown just once in the last 10 months - fell an annual 1.8 percent in January, highlighting the challenges faced by the sector.
Reliance Infrastructure Fund was the biggest loser in the March quarter, registering a fall of over 20 percent, while Sahara Star Value Fund posted losses of 18.3 percent.
Analysts believe Indian markets will trade sideways going ahead, as euro zone concerns and domestic factors such as rising deficits and political developments loom large.
"Outlook will be very cautious ... there are a lot of irons in the fire," said Rajan Ghotgalkar, managing director at Principal Pnb Asset Management Company.