After a master's in business administration from Harvard Business School, Rahul Anand began working with diapers.com in the US. Subsequently, the company was bought by Amazon.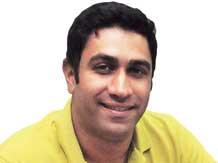 Realising many of his friends always sought to buy baby brands from the West, as this was a better and cheaper option, Anand decided to set up an online shopping company that would get international brands for babies and new mothers into India, at competitive pricing.
Lisa Kennedy, Anand's colleague at diapers.com and another Harvard Business School alumnus, joined him.
In October 2012, Anand and Kennedy co-founded hopscotch.in. Every day, a different brand is available at the website; the company has a boutique sale of select brands that lasts for three-seven days.
The company, which had initially tied up with 50 brands, now partners 500 and records 100,000 customers a month.
It delivers international brands in three-four weeks. "The idea is when a mother adopts a lifestyle and starts engaging with categories and products, a lot of assortments are there for apparel but some categories such as skin-care products, where preferences change, aren't there. So, we cater to them," says Anand.
Business model
All registered customers are sent mails on boutiques, or about 20 brand offerings, for a period. Each boutique, available for three-seven days, includes global brands that aren't available at stores in India.
Anand says the company works with each brand on different terms. "Our business is about giving moms unbelievable merchandise that is hard to find. We compete on differentiation. We have a limited selection of brands on our portal; new brands are launched every day so that the shopping experience is exciting."
Funding
For the first year and a half, Hopscotch was funded by angel investors.
Recently, the company saw bridge financing of $2 million; the participants included LionRock Capital, Toivo Annus (co-founder of Skype), Wei Yan (co-founder and chief technology officer of diapers.com) and Nisa Godrej. The company plans to use these funds to boost marketing and technology.
"We recorded sales of $1 million in 2013. After the funding, we're looking to grow three-four times in 2014," Anand says, adding, now, the company isn't in a fund-raising mode but business-building one. "There might be an opportunity to do a bridge-round of financing later this year," he says.
Growth opportunity
Apart from buyers in tier-II and -III locations, the company also has individual buyers in regions such as the US, Africa and China, though 90 per cent of its business comes from domestic sales. Anand says tier-II and -III towns account for 30-40 per cent of the portal's customers.
A few days ago, Hopscotch, 30-member strong, shifted its warehouse to a much bigger location in Mumbai. Anand said the company didn't see the need to be based out of other cities, as it already delivered to all major locations from here.
India records 27 million births a year, providing immense opportunities to companies in this segment. The market for baby, kid and maternity products is estimated at Rs 42,000 crore annually and growing 20-25 per cent a year.
In 2013, baby products store hushbabies.com, run by Lapis Marketing, was shut, despite the company being backed by large investors. Also, competition abounds.
The segment has others such as firstcry.com and babyoye.com, apart from Mahindra Retail's Mom & Me, etc, which have offline as well as online options.
Experts say to see success in this segment, a company has to expand aggressively into regions where others haven't.
A senior executive of a large online retailer of baby merchandise said while Hopscotch had a unique business strategy, it should ensure it had products in all income segments.
The company wants to focus on enhancing technology and mobile applications. "It is not about what you sell or how many customers you have, it is about how to sell," Anand says.
As an angel investor says, "Initially, investors might be easy to find, but finding people to invest for the long term is the challenge."