Realty players broke their silence to formally express resentment over their being portrayed as one of the major culprits in the recently released "White Paper on Black Money" by the finance minister Pranab Mukherjee in the parliament.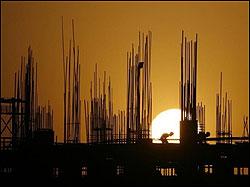 Confederation of Real Estate Developers' Association of India (Credai) called for all-round reforms and an end to the 'License Raj' that still governs the developer community across the country. Besides, it has suggested reforms in four key areas that impact real estate - Administrative, Land, Tax and Banking.
Lalit Kumar Jain, Credai's National President told reporters that the real estate developer community has become a favourite punching bag for many whenever they talk about the national curse.
"We too hate the system that labels us as crooks, cheats and breeders of black money," he said and called for realising the fact that the various bottlenecks at government level at Centre and in several States were equally responsible for this menace.
Jain was reacting to Mukherjee's statement that investment in property was a common means of parking unaccounted money and a large number of transactions in the real estate were not reported or were under-reported.
According to the finance minister, this was mainly account of very high levels of property transaction taxes, commonly in the form of stamp duty. High transaction taxes in property were one of the biggest impediments to the development of an efficient property market.
The economic reforms initiated by Prime Minister Manmohan Singh as the Finance Minister over 20 years ago have seen the end of the Licence Raj, but the real estate sector was still governed by controls and increased controls, Jain regretted.
He informed that there were over 40 clearances that a developer was supposed to get which leads to human interaction with over 150 officials at various stages. Any delay at any stage obviously gives rise to "greasing of palms" as the developer is always anxious to finish his project in time and avoid delays.
He added that any delays would add to the interest burden for developer who scrupulously tries to avoid it since the increased costs would lead to cut in its margins and rise in the cost of the customer.
However, Jain said it was not simple as the White Paper put it. "We are victims of the system, not the Beneficiaries! We hate this system which makes us look ugly. We curse every person who exploits us to give us a legitimate permission which we deserve instantly and without any illegitimate demand," he noted.
Restricted land use and continued pressure on land availability was also one of the root causes of high costs of inputs and the resultant sale price, he said.