A spate of suicides in Foxconn and employee strikes in Honda Company's plants in China have spurred a major change in "the world's factory", as foreign and domestic enterprises prepare for hefty pay rises in the coming years, a national daily reported on Thursday.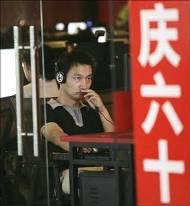 "They (the two events) send a clear signal of tighter labour supply," Cai Fang, director of the Institute of Population and Labor Economics at the Chinese Academy of Social Sciences, was quoted by the state- run newspaper, China Daily in its lead story on Thursday.
Cai said wages for 150 million migrant workers had increased by 19 per cent in 2008 and 16 per cent in 2009 and the labour costs would continue to rise. On Sunday, Taiwanese-owned Foxconn Technology Group announced a second raise in the labour wages that would increase workers' pay by up to 65 per cent at its factories in the southern city of Shenzhen.
Earlier, Honda had also offered a 24 per cent pay hike to its auto parts workers in Foshan, Guangdong, to end an unprecedented workers' strike. In addition, 14 provinces and regions improved their minimum wage levels this year. Shenzhen, a Southern China manufacturing hub plans to hike minimum wages by 15 per cent on an average basis.
The minimum wage will then total 1,100 yuan per month that will improve living standards of 8 million migrant labourers working in the city. By doing so, the government aims to nudge companies to upgrade technologies and management, said Wang Min, director of Shenzhen's bureau of human resources and social security.
"Companies that cannot adapt to the city's development will have to move out as a result," he told China Daily. The rising cost of labour has prompted speculation that global consumer electronics makers may consider moving their factories to neighbouring countries such as Vietnam, India and Indonesia, where wages are lower.
Industry experts, however, said the recent pay rises in such companies as Foxconn were not the beginning of an end to China's role as the "world's factory". Neither did they expected an exodus of foreign companies from China, citing an unfavourable investment environment in alternative countries and high corporate relocation costs, said the report in China Daily.
He said China's role as the "world's factory" is not only because of its low labour costs but also due to its sound infrastructure, political stability, a huge domestic market and high labour skills that few of its neighbouring countries can match.