The growth outlook for emerging markets weakened to a seven-month low in April as Chinese and other output data disappointed, with Brazil the only bright spot, according to a monthly HSBC survey on Wednesday.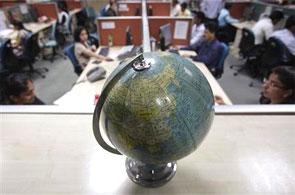 Weaker Chinese data and reduced output in Russia and India saw HSBC's composite emerging market index (EMI), a combination of manufacturing and services PMI data, fall to 51.3 in April, its lowest in more than 1-1/2 years and down from 52.5 in March.
The survey collects data from purchasing managers at about 7,500 firms in 16 emerging markets.
China's composite PMI dropped to 51.1 in April from 53.5 in March, a six-month low, suggesting the economy is slowing as demand from America, Asia and Europe softens and manufacturing production loses pace. The index remains above the 50 mark separating growth from contraction.
The future output index, tracking firms' expectations of activity in 12 months' time, fell for a second month in April, dropping more than 5 points from the same month last year and returning to levels last seen in September.
Business expectations in China weakened in April to their lowest this year, for both manufacturers and service providers. The latter were the least optimistic they had been since the surveys began in 2005, although the reading was still above 50.
Weaker first-quarter growth of 7.7 per cent and falling official PMIs have raised concerns the economy is in a soft patch, although data this week could ease those fears.
Frederic Neumann, co-head of Asian economic research at HSBC, said bumper liquidity as a result of global central bank stimulus measures should prevent a sharper downturn.
"However, slower growth raises the vulnerability of emerging markets to a broader shake-out in advanced economies, whether a deeper slump in Europe or renewed financial stress that would quickly propagate across emerging markets as well," he wrote.
Brazil was the only BRIC economy that improved in April, with a composite PMI reading of 51.5 compared to 51 the previous month, boosted by stronger service sector data.
"Every country is talking about its export side being weak, but it is also the domestic side that is very weak ... services are a very much domestically dominated sector and even that sector apart from Brazil has weakened," said Madhur Jha, global economist at HSBC.
South Korean manufacturers fared better than Asian peers in April, with manufacturing volumes increasing at their highest pace in a year. Taiwanese manufacturing expanded for a fifth month in a row, although at a slower pace.
New export orders almost stagnated in Indonesia and Vietnam, the survey showed, while the rate of output growth slowed in Mexico. New orders growth slowed for goods producers in Russia.
Photograph: Vivek Prakash/Reuters