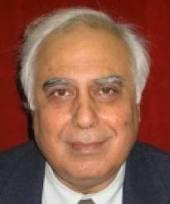 It is possible for the country to achieve economic growth rate of 8-9 per cent by the end of 12th Plan period (2012-17) but prior planing is needed for this, Telecom Minister Kapil Sibal said on Friday.

"By the end of the 12th Five-Year Plan Period and even during the 13th Plan period, we will have a growth rate of at least 8-9 per cent. It is achievable, but for this we have to plan accordingly," Sibal said at an event in New Delhi.

Speaking at a national workshop organised by National Institute of Electronics and Information Technology, Sibal said that major thrust to achieve such a growth rate has to come from the secondary and tertiary sectors.

"We have to ramp up our capacity building institutions so that we create good professionals and considering the consumer electronics market will touch $400 billion by 2020 we need to be ahead and utilise this opportunity.

"Also this will help us to achieve the growth target," he added.

Manufacturing sector needs to grow if the country is set to ensure jobs for the young and achieve growth, he said.

In February, President Pranab Mukherjee exuded confidence that economy growth rate will bounce back to 8 per cent.

"Though economic growth has recently declined somewhat, I am confident that we will be able to bring the deceleration to a halt and revert to the eight per cent growth levels that we attained many times in the past," he had said.

The economy is estimated to have grown by 5 per cent in 2012-13 financial year.

Emphasising on skill development, Sibal said NIELIT should take the lead and concentrate on research issues, which can help in skill generation and also expand its curriculum to add courses that are relevant to changing times.

"Besides, we need to expand the number of our accredited institutions.

This time they are 550 but now we should look at a figure of 1,500 in a year.

This is the number we require, if we need to match the youth population and at the same time achieve 8-9 per cent growth," he added.

Department of Electronics and Information Technology Secretary J Satyanarayana said that it is important to concentrate on developing skills.

"Capacity building is important to promote skill development, which in turn will ensure better professionals and will help in advancement of the sectors.

"This holds importance in IT and electronics sector," he added.
Image: Kapil Sibal