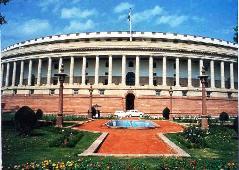 The empowered group of ministers on drought will meet on September 3 to discuss further relief measures in some parts of the country that are facing deficit rains, Agriculture Minister Sharad Pawar said on Tuesday.

Barring some states, he said the crop prospects in the ongoing kharif (summer) season are good.

"The EGoM on drought will be held on Monday (September 3)," Pawar, who heads the EGoM, told PTI.

On Kharif crop conditions, he said: "Except Karnataka, Maharashtra and Saurashtra in Gujarat, crop prospects are good in other parts of the country".

"Rains in north India will be very much useful for rabi (winter) crops," he added.

Monsoon, the life-line of Indian agriculture, has been deficient by 13 per cent so far, affecting the sowing of kharif crops, particularly coarse cereals and pulses.

The EGoM was reconstituted last month in view of drought-like conditions in four states -- Karnataka, Maharashtra, Gujarat and Rajasthan.

In its last meeting held on July 31, the panel had announced 50 per cent diesel subsidy to farmers to save the standing kharif crops and release of about Rs 2,000 crore (Rs 20 billion)
to boost irrigation, drinking water and fodder supply for the affected areas.
Earlier this month, Pawar along with Rural Development Minister Jairam Ramesh had visited these four states to take stock of the situation.
Separately, Pawar had toured Punjab and Haryana as these two states received less rains but farmers managed to sow crops with use of irrigation facilities, leading to higher cost of production.
Sources said the next EGoM will review the drought situation in all these states and consider further measures to mitigate its impact.
On August 24, total area under kharif crops is down at 32.9 million hectare, against 34.2 million hectare in the same period last year.
Last week, a delegation, led by Maharashtra Chief Minister Prithviraj Chavan, had met the Prime Minister and sought a central assistance to the tune of Rs 3,572 crore (Rs 35.72 billion) for tackling drought in 123 talukas.