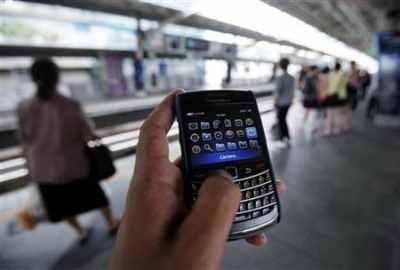 Anup Gupta, an information technology executive who uses radio cabs for airport transfers, was quick to spot a deal.
TaxiforSure.com was offering a discount of Rs 50 on all bookings done through its mobile application.
Gupta was quick to download the app on his phone, and now uses it every time he wants to book a cab.
Businesses in India, especially e-commerce firms, are waking up to the potential that mobiles offer in this country and are pushing their mobile applications to smartphone users.
Several e-commerce firms - Myntra, OLX, Quikr and Ola Cabs, to name a few - have launched their own mobile apps.
Flipkart wants to use their $1-billion fundraise to acquire companies in mobile applications. Amazon, which plans to pump $2 bn in India, has said mobiles would be a key area for focus.
This is understandable. More and more people are accessing the internet on their mobiles. India's internet subscriber base is 100-150 million, depending on whose estimates you take, and is growing at 20-30 per cent a year.
There are nearly 50-80 mn smartphone users (second largest in the globe after China, which has 300 mn smartphones) and this base is growing at 60-70 per cent yearly.
''Internet on PCs (personal computers) has plateaued, with connected devices driving internet adoption and growth.
The new-to-net population is increasingly skipping the PC, getting its first exposure to internet on mobile phones.
It makes sense to be present where consumers are,'' says Amarjit Batra, chief executive officer (CEO) of OLX.in, a classifieds site, which invested early in a mobile app, and claims to be among the top 20 free apps on Google Play Store.
For OLX, the contribution from mobiles to overall traffic has grown from 10 per cent in January 2012 to 70 per cent in May 2014.
The traffic coming from its mobile app grew 900 per cent in 2013 alone, thanks to an ad campaign.
Its mobile app allows users to take a photograph of anything they want to sell and upload it instantly, saving users the hassles and time of transferring and uploading pictures.
''There has been a massive shift in mobile usage patterns. The next generation might well skip desktops and laptops for mobiles,'' says Satyajeet Singh, vice-president (products), Zomato, a restaurant search and discovery service.
''Being on mobile has helped our brand grow exponentially." For Zomato, 55 per cent of its traffic comes from mobile phones, which in two to three years could increase to 70-75 per cent.
Target communication
Marketers say it's not only that people are increasingly accessing the internet on their mobiles than on desktops or laptops.
It's also exploding from a customer demographics point of view, as these customers are willing to buy online.
''It becomes a very good segmentation tool of people very familiar with buying online,'' says Ankur Warikoo, CEO, Groupon India, who also oversees Indonesia, Thailand and Philippines.
Many companies do a lot of television advertising and email marketing ''but mobile is a fascinating way of creating a personalised communication channel with the customer", adds Warikoo.
The deal site, for instance, sends newsletters on the best deal for the day.
You could stay in south Delhi, while a potential customer is in west Delhi but irrespective of your location, everyone gets the same deal.
Phones know where you are located and marketers can send notificationa based on a customer's location.
This is a massive thing for companies like Groupon - it can personalise the communication based on a customer's purchase and browsing, and can create a digital profile of a customer without knowing her.
Marketers get to know if a customer is buying Indian food or Chinese or what she is browsing. Based on a customer's preference, the communication can be personalised and targeted.
''All this is possible on a mobile phone and marketers find it very cost-effective to reach and engage with customers. The frequency of engagement is also higher with mobiles," says Warikoo.
No wonder that Facebook earns over 70 per cent of its traffic through mobiles; this was 20 per cent only a few years earlier. Globally, Groupon gets 55 per cent of its traffic through mobiles; this was 20 per cent only two years earlier. With annual global sales of $3 bn, it would be among the leading mobile commerce firms.
Drive loyalty
''You can drive loyalty if you can drive your application."
"The user interface is much better in a mobile application than on a mobile site,'' says Prashant Malik, co-founder & chief technology officer, Limeroad.com, a women-centric lifestyle portal.
''Mobile app users are most engaged, and satisfied app users are most loyal. The brand loyalty emanates from the superior user experience on the mobile App,'' says Batra of OLX.
With shifts in usage patterns, the value of a mobile customer for companies is closer to the desktop user.
Earlier, it was harder to transact on mobiles.
But with larger screens, bigger memory, better browsing and efficient payment systems, the value of the mobile user has gone up.
However, there's an issue. A mobile user might choose to have, at best, three or four mobile apps on his phone.
Yet, today, every business is pushing its own. Do all of them expect smartphone users to download and start using their applications?
If not, then what are marketers are trying to achieve? In the US, a study a few years earlier had revealed that smartphone users had 20-25 applications on their mobiles but frequently use (that's at least once every three days) less than seven of these.
And, it's largely networking apps like Facebook, WhatsApp, Twitter or LinkedIn; very few use an app for commerce.
It's no different in India. ''Beside the networking sites, I use a mobile app for banking,'' said the CEO of a head-hunting firm. Another adman said he uses the mobile app of a popular music streaming site, gaana.com, to listen to music and radio.
''There are a number of apps on offer but users will eventually use the apps they find most relevant."
"The addressable base of mobile internet is much larger than that of PC/laptops. So. even a percentage of users adopting the app results in a significant number," says Batra of OLX.
''It's an open game today. People are yet not hooked to a few apps; there's an opportunity for everyone to go and establish,'' says Prashant Malik of Limeroad.com.
Not all apps will survive. Consumers might opt to have an application for each category, such as e-commerce, travel, deals and classifieds, say category leaders.
So, the fight is for attention within each category. Companies are saying, let me be the first and best app in my category on a customer's mobile.
But why would customers want to download an app like Zopper, which aggregates all sellers on a platform, which they might not have heard of?
''Discovery is a problem,'' admits Neeraj Jain, co-founder, Zopper. It plans to reach out to people in interesting ways through Facebook and Twitter, to aid this process.