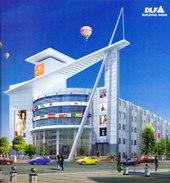 With the Supreme Court vacating its stay on the Pinjore-Kalka Urban Complex, real estate major DLF is gearing up to proceed with construction of its 227-acre township called 'DLF Valley'.
"We welcome the Supreme Court order. This enables us to re-start construction in right earnest," the company said in a statement.
Rakesh Kerwell, director (north), DLF India Limited, said with the apex vacating the stay, the company will resume work on a war footing to make up for the time lost during the stay period since April 19.
"We are in the process of micro-scheduling and macro scheduling for giving possession in a phased manner," said Kerwell.
Earlier, the Pinjore- Kalka Urban Complex Project had run into rough weather when farmers
of Islam Nagar, Bhagwanpur and other affected villages alleged that their land was forcibly acquired by the Haryana Urban Development Authority for the project.
The farmers moved the Punjab and Haryana High court, which granted the stay in April.
Following stay order, DLF had moved the Supreme Court to get the stay vacated.
DLF Valley will be constructed in four phases.
According to the company, more than 1,800 independent floors of various sizes ranging from 1,450 sq. ft to 4,100 sq. ft were offered in the first three phases of the township project.
By the time the entire township is fully occupied, DLF expects more than 24,000 residents to inhabit DLF Valley, housing 5,000 apartments.
The total investment envisaged is Rs 2,200 crore (Rs 22 billion).