Dubai International Capital has reached a deal with its main bankers to delay repaying debts of $2.6 billion (9.55 billion dirhams) for three months, the company has said.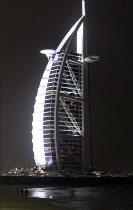 Dubai's premier investment vehicle said the company and its coordinating committee of banks requested lenders for a three-month extension of certain maturities till September 30.
"The extension period would allow the implementation of a consensual longer-term plan that would enable DIC to maximise the value of its business for the benefit of all its stakeholders," the statement said.
Interest and amortisation payments would continue to be paid. The banks that have agreed to the deal are British lenders HSBC, Royal Bank of Scotland and Lloyds, while local banks Emirates NBD, Noor Islamic and Mashreqbank have also approved the proposal.
According to some estimates, the total debts of DIC, an international private equity and asset management company, are believed to be about $2.6 billion, of which $1.25 billion is in the form of a loan from a syndicate of banks, due to be repaid next month. DIC is a part of the Dubai Holding conglomerate.