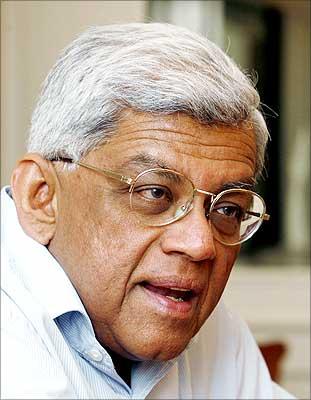 Noted housing finance expert Deepak Parekh will head an eight-member committee appointed on Tuesday by the ministry of housing and urban poverty alleviation to discuss the draft guidelines of government's ambitious Rajiv Awas Yojana which aims to make the country slum-free.
"An independent eight-member expert committee under the chairmanship of Deepak Parekh has been set up to give its comments on draft guidelines of Rajiv Awas Yojana," Housing and Urban Poverty Alleviation Minister Kumari Selja said.
She was addressing the Parliamentary Consultative Committee attached to her ministries.
The scheme has been formulated on the lines of the JNNURM, for slum dwellers and the urban poor and is aimed at making India slum-free.
Under this scheme, support would be extended to states willing to assign property rights to slum-dwellers.
Other than Parekh, Nasir Munjee, S Sridhar, Professor O P Mathur, Renana Jhabwala, Sheela Patel, Rohtas Goyal and Kumar Gera will be members of the committee.
According to terms of reference, the expert committee will examine the draft of Rajiv Awas Yojana scheme and make suggestions regarding strategy, financial pattern and other features. The expert committee will submit its recommendations within one month from the date of its first meeting.
In this year's budget, allocation of Rs 1,270 crore (Rs 12.70 billion) was made for the scheme which is an increase of over 700 per cent from last financial year.