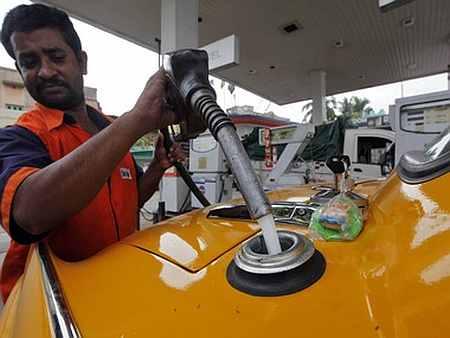 International crude oil prices on Tuesday climbed to a six-month high, even as fears over heightened action in the Western world gave the Indian petroleum sector underrecovery jitters.
With the rupee breaching the 66-a-dollar mark, the underrecovery on sensitive petroleum products in 2013-14 is set to exceed last year's Rs 1,61,029 crore (Rs 1.61 trillion).
On Tuesday, Brent crude fell to $114.14 a barrel. This was after the Indian basket of crude oil had on Monday scaled an all-time high of Rs 7,011.35 a barrel.
"At the current rate, with international prices heading north and the rupee scaling new lows, we fear the underrecovery figures might cross last year's level and reach an all-time high. It might even exceed Rs 2 lakh crore. Moreover, this might lead to a situation where the government would be left with no choice but to increase the prices of diesel and LPG - diesel by more than the agreed 50 paise a month," said a senior petroleum ministry official.
At the beginning of this financial year, the finance ministry had pegged the total underrecovery for this year at as low as Rs 80,000 crore (Rs 800 billion) - and, on a formula to share the subsidy burden with upstream oil companies, provided for Rs 65,000 crore (Rs 650 billion) in Union Budget 2013-14 (compared with Rs 96,880 crore the previous year).
But the rupee at that time was valued at around 54 a dollar and international crude oil prices were ruling close to $99 a barrel.
According to the petroleum ministry, every dollar increase in crude oil price will add Rs 4,000 crore (Rs 40 billion) to the overall underrecovery, while every one-rupee fall against the dollar will increase it by Rs 8,000 crore (Rs 80 billion).
These concerns have only been stoked by the reports that the US and other Western powers could be considering a military action on Syria, holding President Bashar al-Assad responsible for a chemical-weapon attack in Damascus.
The rise in Brent crude prices is alarming for India, as the composition of its basket represents the average of Oman and Dubai for sour grades and Brent for sweet grade in the ratio of 68.2:31.8.
There also were reports that the Indian government could be looking at a hike of Rs 3-5 a litre in the diesel price - rather than the agreed decontrol dose of 50 paise a month - and that of Rs 10 a cylinder in the domestic cooking gas price.
However, on being asked, Petroleum Minister M Veerappa Moily said: "We are highly concerned about the situation. But there is no plan or proposal to increase either diesel or domestic LPG price at present." But ministry sources suggested such a move could not be ruled out after the monsoon session of Parliament.
For the second fortnight of August, the underrecovery on diesel, kerosene and LPG stood at Rs 10.22 a litre, Rs 33.54 a litre and Rs 412 a cylinder, respectively. Oil marketing companies had reported Rs 25,579 crore (Rs 255.79 billion) of under recoveries during the first quarter of this financial year.
As of August 16, these firms were, on a daily basis, losing a combined Rs 389 crore (Rs 3.89 billion) on sale of sensitive petroleum products. In 2011-12, the under recovery figures had stood at Rs 1,38,541 crore (Rs 1.38 trillion), up from Rs 78,190 crore (Rs 781.90 billion) the previous year.