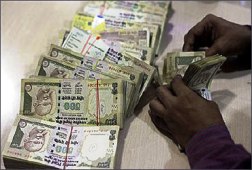 Faced with a cash crunch, Crest Animation Studios plans to slash nearly two-thirds of its workforce.

The company's loss in the financial year 2013 was Rs 13.82 crore (Rs 138.2 million).

It hopes to cut costs by up to 50 per cent through layoffs and lower rent expenditure by moving out of its current office in Ghatkopar (West) in Mumbai.

It also has operations in the US through Rich Animation Studios that it acquired in 2000, which will see retrenchment of up to 20 per cent.

In a statement, the company said, "Much against our wishes and the expectations of our employees, we have had to announce temporary layoffs across the board, purely based on business demands."

The retained employees of the company may have to take salary cuts.

Denying reports that the company was shutting down, the Crest management said it intended to diversify into the computer-generated imagery (CGI) animation business and explore projects in India.

Till now, most its work has been based in Hollywood and it also took up outsourcing work for films requiring CGI animation.

Crest has been hit hard after the number and value of projects outsourced from Hollywood fell.

Seemha Ramanna, chairperson and managing director, said, "With the slump that hit the US in 2008, a lot of media entities
got hit and we were one of them.
"However, we continue to be in the business of providing high quality CGI products and services to the global markets.
"In addition we also intend to enter new business avenues wherein we can leverage on our capabilities and capacities."
Crest has identified three areas for expansion — visual effects, which it is already doing, simulation and education.
Chief Executive Officer P Rajasekhar said, "When you start having a rough patch, you wait it out and do the best you can.
"There comes a time though when you need to take a step back, relook at yourself and make some changes to break the pattern. This is what we are doing."
He added they would hire some of the laid-off workers when the cash flow stabilised, beside hiring new ones.
Meanwhile, the studio has finished all its pending commitments in the third quarter of FY13 and from January to October 2013, it will focus on the restructuring exercise.
Crest is also in talks with investors to raise funds.
In India, it will be looking at raising debt, while in the US, it is talking to private equity firms.
While Ramanna refused to comment on the matter, sources said the studio was trying to partner Chinese studios for Norm of the North, which was slated for a 2014 release but got delayed after one of the financiers backed out.
Crest intends to get the project up and running for a 2015 release.