The first session of discussion over cotton trade between Bangladesh's Ministry of Commerce officials, Bangladesh Tariff Commission and Trading Corporation Bangladesh (TCB) personnel and other stakeholders of an Indian delegation concluded on May 14.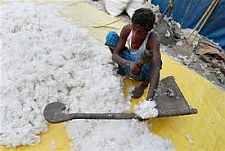 With this, the authorities in Dhaka are rather hopeful that a five-year long agreement for an annual import of 1.5 million bales of cotton from India will be signed between the two countries soon.

The agreement once signed can be worth over $359 million per year, according to international cotton prices that fell to $500.4 per candy (355 kilograms) as of May 11, 2012.

With the US Department of Agriculture predicting a lower import of cotton by China in 2012-13, striking a deal with Bangladesh on cotton exports maybe a feasible alternative for India, which reinitiated restricted cotton exports this month, after a ban in March.

In the two-day long session, the Bangladesh delegation was led by Bangladesh Commerce Ministry's additional secretary Ruhul Amin Sarkar while Indian Textile Ministry Joint Secretary V Srinivas led the Indian side.

"The talks have initiated," said a Bangladesh Tariff Commission official to rediff.com on May 14. "Although nothing has been finalised yet, we are hopeful that we will sign the deal after some more meetings," he added while mentioning that the target for Bangladesh is to attain the agreement for annual import of 1.5 million bales (170 kilograms per bale) of cotton.

While both the countries have agreed to sign a contract, New Age in Bangladesh quoted a member of the Bangladesh delegation as saying, "We have to decide on how the assured quantity of cotton will be supplied to Bangladesh and what will be the procedures". Through the session, officials of both countries have exchanged ideas on the draft contract prepared by Bangladesh Tariff Commission.

Although the proposed agreement will be signed between Cotton Corporation of India and TCB, private sector businesses of the two countries will trade cotton and not the governments. However, the two governments
will expedite the implementation of the agreement.
According to the draft, any party can cancel the agreement after a three-month prior notice. Bangladesh is currently seeking India's assurance that, following the agreement, at least 1.5million bales of cotton at market price will be supplied even if India imposes a ban on global cotton exports from India.
The Indian side has assured that they will finalise the draft contract following discussion with the CCI. After this, the agreement may be signed.
Bangladesh imported more than 3.94 million bales of cotton in the previous fiscal year of 2010-2011, according to latest data from Bangladesh's commerce ministry. Of the total amount, 41.82 per cent was imported from India, 35.31 per cent from Uzbekistan and other members of the Commonwealth of Independent States, 7.68 per cent from Africa (East and West) and 15.19 per cent from US, Australia, Pakistan, China and other countries.
In May this year, Bangladesh initiated talks with Uzbekistan to import more cotton, after India imposed a ban on cotton exports on March 5.
India decided to impose the ban after exports surged 9.5 million bales, exceeding the Indian government's estimates of 8.4 million bales, set in January this year. The ban was lifted on May 1 after India considered the interests of farmers, industry and trade in India.
However, this is the second time that India has imposed a ban in the past two years, driving most cotton-buying countries like Bangladesh to think of alternatives.
The deal between Bangladesh and India will also prove fruitful for India as a recent USDA report titled 'Cotton: World market and trade' forecasted lower import by China in 2012-13.
The report forecasted on assumptions that China is likely to buy more cotton from its domestic sources than import while also being expected to release cotton from its own reserves besides restricting imports.
In Inter-Continental Exchange (ICE), the cotton for May delivery traded down 2.81 cents to 79.01 cents per bushel on May 11 while in India's National Commodity and Derivatives Exchange (NCDEX), the commodity for February delivery traded down 3.74 per cent to Rs 1,027.5 per quintal on the same day.