Inflation seems to be coming down from high levels, which would give the Reserve Bank some room to reduce policy rates, an official of investment bank Morgan Stanley said on Monday.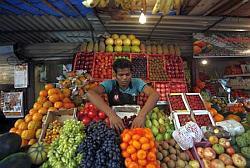 "... I think inflation in India seems to be coming off the boil and that gives some leeway for the RBI to act. But I find, RBI is not the main player out here, the whole issue is that inflation is symptomatic of a wider problem in India," Ruchir Sharma, the Managing Director & Head of Emerging Markets and Global Macro, Morgan Stanley Investment Management, told reporters.

Addressing media on the sidelines of an event, he said inflation is being pushed up because of funding of welfare schemes by the government as well as rising supporting prices of agricultural produces.

"... the fact that some of the welfare schemes have been pushing inflation up in India. The support prices for agricultural products have been increasing too rapidly."

The wholesale price index-based inflation was at 6.62 per cent in January, against 7.18 per cent in December. The rate of price rise was 7.24 per cent in the same month a year ago.

RBI will reveal its monetary policy review on March 19. In its last policy review in January, RBI had cut its short-term lending rate, or repo rate, by 0.25
per cent.
Sharma also said investment in India is lopsided as a major portion of it is coming from the public sector.
On the state of Indian economy, he said, "There is a bit of a crisis. But since last September, a series of reform measures are being taken to try and rectify the situation ... the complacency of a year ago, I think has given a way to some sense of recognition that we (India) have a macroeconomic problem and something needs to be done."
To a question on rising current account deficit, he said, "The concern is that currency is funded by lot of global liquidity. But if there is any macroeconomic trouble in the world where the global liquidity falls off a bit, I think it will be a real problem for India. CAD remains a major concern for India."
On changes in emerging markets, he said the leadership is now changing. "Some very interesting patterns have emerged, which is that some of the countries in South East Asia like
Thailand, Philippines, Indonesia are at all time high in dollar terms. Whereas countries like India, Brazil, Russia, China (BRIC) are still 30-40 per cent below their all time high.
"Some new emerging markets are doing much better now. So, I think that leadership change is going on. It is also the leadership shift going on within the emerging markets."