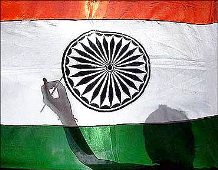 Ratings agency Crisil said on Wednesday a revival in consumption will push up the country's gross domestic product growth rate to 6.7 per cent in FY'14, from 5.5 per cent estimated for the current fiscal (FY13).

"India's GDP will grow at a higher rate of 6.7 per cent in 2013-14 in comparison to 5.5 per cent estimated for the current fiscal due to a revival in consumption," the agency's research division said in a note.

Improvement in the farm sector, lower interest rates and higher government spending will drive the consumption demand, it added.

The estimates from Crisil come at a time when the economy has witnessed a a downward revision of growth estimates by analysts for a better part of the ongoing fiscal because of troubles on the global and domestic front.

The Reserve Bank had revised its estimate downwards to 5.7 per cent from 6.5 per cent in the October monetary policy announcement.

On the global front, worries around the Euro zone have been a concern while domestically a perception of policy paralysis till September, elevated rates due to inflation and issue of getting faster project clearances did not help.

International rating agencies have also called for immediate action on the high fiscal deficit.

Crisil said it expects fiscal deficit to fall to 5.5 per cent in 2013-14 from the 5.8 per cent it estimates for FY' 13.

It said on Wednesday the Reserve Bank, whose elevated interest rates have been one of the factors blamed for the lower growth, will cut its interest rates by up to 1
per cent starting January as inflation moderates.
It expects headline inflation, which is likely to come at around 7.7 per cent for 2012-13, to moderate to around 7 per cent next fiscal.
RBI has been holding to its high rates citing the uncomfortable inflation numbers.
A normal monsoon, stronger rupee and lower crude oil prices will aid the inflation cooling off but it will not come down by much due to upward revision of fuel prices and excess demand for food articles, it said.
On the rupee-dollar front, it expects rupee to trade at 51-52 levels by end FY'14 as against the 53 level it estimates for March 2013.
The lowering of interest rates will push down retail lending rates, thereby boosting demand in interest sensitive segments, while the general elections in 2014 will boost higher government spending on social sector schemes, it added.
Sectors such as consumer durables, hotels and restaurants and financial services are likely to benefit as a result of this, it said.
Industrial growth will go up to 5.4 per cent as the private consumption increases, even though it will be lower than the ten year average of 7.9 per cent, its chief economist Dharmakirti Joshi said.
On the downside, Crisil outlined a failure of the monsoon in 2013 and deterioration of the global economic prospects as the risks to GDP growth in FY14.