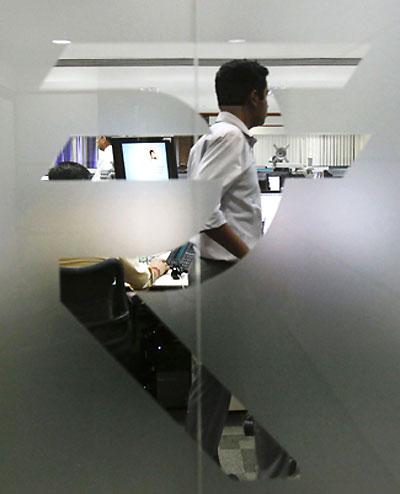 Rajasthan seems to be leading the way in tackling land and labour reforms; once these are seen as successful there, other states are likely to follow.
Over the last couple of weeks, I have had the opportunity to meet many investors - both domestic money managers and foreign institutional investors (FIIs) - who have spent two or three days in Delhi, meeting various ministers, bureaucrats, journalists and advisors.
The feedback from most of them, and especially foreigners, was that they were underwhelmed by what they saw and heard in the national capital.
Many had come to Delhi believing that Narendra Modi was India's equivalent of Margaret Thatcher or Ronald Reagan - that he would fundamentally change the country's approach to economic policymaking, and move the country far more to the right on economic issues.
There was also a sense that the huge mandate given to Mr Modi and the Bharatiya Janata Party was to bring about long-lasting and structural change.
The electorate was tired and fed up with the old way of doing things, and wanted new ideas, fresh blood and improved governance.
This was India's time; with a strong central bank governor and a new decisive government, anything was possible.
Finally, the country and its political leadership would make the changes necessary to get back to a gross domestic product growth rate of eight per cent and structurally lower inflation.
India had the chance to re-enter a virtuous cycle of dropping interest rates and accelerating economic growth - a heady combination for equity markets.
Well, much of that initial enthusiasm among the investors has worn off after spending a few days in Delhi.
The feedback is that this government is not interested in doing the big-bang stuff. Do not expect some radical rethink on economic policy or governance.
There still seems to be limited political appetite to tackle the more fundamental second-generation reforms in land, labour, education, agriculture and public-sector banks.
Tinkering on the edges, yes; improving bureaucratic functioning and administration, yes; getting ministries to talk and capturing other low-hanging fruit, sure. However, there is not going to be any fundamental rethink of how India governs itself or frames its economic policy.
There also seemed to be a feeling in Delhi that nothing radical needs to be done.
Most of our problems, this line of thinking went, were linked to the poor governance during the United Progressive Alliance's rule, and not to any inherent systemic flaws.
As bottlenecks in projects are eliminated and approvals get expedited, growth will come back. In the meetings, there seemed to be no visibility of measures in the pipeline.
These investors all walked away with the impression that the bureaucracy was charged up and had lot of energy - but they learnt nothing concrete about what these bureaucrats would do with that energy.
There was also no sense of a unifying economic vision. It was not clear who was advising the government on economic issues, and why no experts had been brought in.
Why do the posts of chief economic advisor and deputy chairperson of the Planning Commission remain empty?
Why is the finance minister being forced to handle defence as well? Now, one can argue that the government has been in office for only three months, and that it is too early for it to roll out the big-bang stuff.
Let the state elections get over, and we will see movement.
Others argue that the prime minister is playing a waiting game, biding his time till his numbers in the Rajya Sabha move up.
Just look at the fate of the Bill for raising the cap on foreign direct investment in insurance. If even this cannot be passed - though proposed by the United Progressive Alliance government - what is the point of big-bang proposals that will ultimately be scuttled in Parliament? There are also a lot of small procedural changes happening below the radar, which are effectively removing the bottlenecks in administration.
Rajasthan seems to be leading the way in tackling land and labour reforms; once these are seen as successful there, other states are likely to follow.
Another equally valid point is that India now needs execution, and better governance and administration. We do not need more ideas that are never implemented.
There are enough low-hanging fruit - just doing the existing things better, taking decisions and so on will put the economy back on a higher growth path.
While this may all be true, the reality is that there is a strong feeling among most large investors that for India to get back to eight per cent growth and to drive inflation lower, we need to make fundamental improvements in how the country is governed.
The country is now too complex and the issues too complicated for the old approach to continue. We are reaching a breaking point on subsidies, on land and labour policies, on natural resource allocation, and on the regulation of business. The public-sector banks and their capital needs are a case in point.
How long will we keep ducking this issue? A generalist approach to governance will no longer suffice. Whatever the National Democratic Alliance (NDA) is doing in terms of improving processes and decision making is all on the margin and may get us back to six per cent growth - but not much further.
This, however, is unlikely to be enough for investors. The FIIs are piling into Indian equities because they think we can regain our growth mojo, thereby accelerating earnings and growth sharply.
Nobody will buy Indian equities today, at these valuations, if they believe that all we can manage is six per cent growth. All is not lost, and we still have time.
The NDA government needs to spell out in clear terms what went wrong in the last five years on both growth and inflation. What is its diagnosis of the problem? Is it just poor governance?
Or are the problems more fundamental? Then it needs to clearly lay out what it will change and how it will conduct economic policy differently to get us out of this funk.
This government is still in its honeymoon period; investors are giving it the benefit of the doubt. This will not continue forever.
Investors cannot keep coming back from a trip to Delhi with no confidence in what this government will achieve in the coming five years.
As I have said on multiple occasions, a strong equity market is a part of the solution to our growth challenges. Investors have to remain engaged and excited with the India story.
While markets will likely continue to consolidate at these levels, we need more movement and energy from the government on economic matters to help the indices break out from these levels.