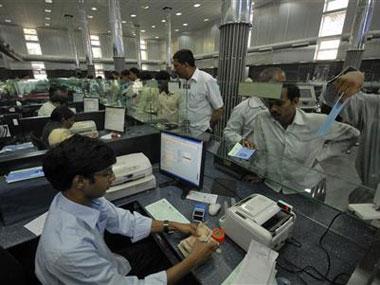 Banks and insurance companies have gone on a firefighting mode after allegations by online portal Cobrapost that they violated money laundering norms.

Though all of them denied the allegations, they, however, said if any instance of money laundering comes to their notice in the investigation, action would be taken against erring employees.

Pratip Chaudhuri, chairman, State Bank of India, which was also accused by Cobrapost of indulging in money laundering, was the first to clarify the lender's position in the day.

"As far as we have understood (the sting), there is nothing serious." Chaudhuri said.

He said the bank reports suspicious transactions regularly and on a real time basis to the financial intelligence unit and has a special cell in Jaipur to monitor suspicious transactions.

"We have zero tolerance for money laundering, and will take action on those found flouting the norms," Chaudhuri said, adding the finance ministry had asked SBI to ascertain the facts in the allegation.

The finance ministry has also swung into action after the allegations were made and has asked the banks' body to look into the charges.

Financial Services Secretary Rajiv Takru said, "We immediately put officers on the job. I have asked the Indian Banks Association (IBA) to look into Cobrapost's allegations."

He said, "We assume whatever has been shown in the DVDs is prima facie correct... Banks and insurance companies have been told to initiate action."

The Reserve Bank of India today said nothing irregular has been reported in the branches which were exposed by Cobrapost last month.

In a post policy conference call with researchers and analysts K C Chakrabarty, deputy governor, RBI said, "We have verified those branches and we have not found anything irregular there."

He, however, reiterated that once banks reply after showcause notices are served, RBI will take appropriate action based on the banks' replies.

Today, in the second part of its expose on money laundering in the country, Cobrapost named 20 new financial institutions, including four insurance companies which are allegedly involved in flouting the know your customer and anti-money laundering norms, and helping customers convert their black money
into white.
After alleging ICICI Bank, HDFC Bank and Axis Bank -- all of them from the private sector -- of violating KYC and AML norms in March, the online portal today named 12 public sector banks, four private sector banks and four insurance companies, including country's largest insurer, Life Insurance Corporation of India.
LIC also issued a statement, saying its system was robust enough to detect any violation and if anything amiss noticed at any level, it will take necessary action.
"Our IT system itself does not accept any cash transaction beyond Rs 50,000 without quoting PAN.
"In addition, regular reporting is made to the Financial Intelligence Unit, India, where cash is received beyond Rs 500,000.
"Our audit/inspection department regularly monitors violation, if any, and issues special reports.
"Strict action is taken where any such cases are reported," LIC said.
The country's second largest lender, Bank of Baroda, also alleged by Cobrapost as involved in money laundering, issued a statement on similar lines.
"We are in the process of investigating the whole matter and we shall be able to comment on it after the facts are assessed," it said in an emailed statement.
"As far as KYC and AML guidelines in the bank's operations are concerned, the bank has a robust mechanism in place, and all operations are conducted with due diligence," it further said.
It also assured of action against employees if found guilty.
Among private insurers, Reliance Capital spokesperson said, "We categorically deny the baseless allegations in relation to any involvement of the Company in money-laundering by customers of our life insurance business."
Birla Sun Life said it would appoint an independent firm to investigate into the matter, including the role of the concerned individuals.
The firm will also review processes to recommend any further strengthening of controls that may be needed.
It has also suspended concerned officials pending investigations. Tata AIA said, "We have initiated an internal inquiry into this incident and will take appropriate necessary action."
These companies are part of the financial services groups which are keen on getting a banking licence from the Reserve Bank of India, for which the central bank has already issued the guidelines.