Pitting US President Barack Obama's own announcements against his key adviser, David Axelrod, Environment Minister Jairam Ramesh claimed on Tuesday that the Copenhagen Accord would not "control or strangulate" India.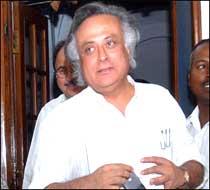 Axelrod had said that the Copenhagen Accord would enable the US to "review" what China and India were doing. "We're going to be able to challenge them if they don't meet those goals," Axelrod told CNN.
Quoting Obama's press briefing after the Accord was finalised, Ramesh told the Rajya Sabha: "I will quote Mr. Axelrod's boss, Mr. Obama. He had said what it (the accord) will do is to allow each country to show to the world what they are doing, and there will be a sense in the part of each country that we are, in this, together; and who will know who is meeting and who is not meeting the mutual obligations that have been set forth."
Discounting the US advisor's remarks as "made for domestic consumption" to appease the US Congress and the trade unions, Ramesh said: "I don't want to get into the statement of Mr. Axelrod. I go by what President Obama has himself said. And, nowhere has President Obama said that this record is meant to control or strangulate China and India."
Leader of Opposition Arun Jaitley apprehended that the government had failed to keep its promise to Parliament and the Accord provided avenues for international scrutiny on India's action. But Ramesh said "international consultations and analyses" were not aimed at India but towards China.
Even as India and China, along with South Africa and Brazil formed a powerful group in the climate negotiations, Ramesh tried to dispel the fear about India, saying, "This issue was really directed on China, because the world wants to bring China into the mainstream and they want to have confidence that the Chinese numbers and Chinese systems have some credibility."
The government, however, came under severe attack from Jaitley for diluting the Kyoto Protocol and "in an attempt to please some countries, sacrificing national interest".
Pointing out disparities between Ramesh's statement and the script of the Accord, Jaitley said: "This is again the Sharm-al-Sheikh syndrome. The government wants us to believe something, while the text shows something else." Jaitley and CPI(M)'s Sitaram Yechury accused the government of agreeing to determine a peak year of emission, even as the government had promised not to do so before going to Copenhagen.
"The principle of peaking year has been agreed upon. Only the peaking year is yet to be fixed," Jaitley said. Yechury later added, "The developed nations will have to declare an early peak year, while countries like India can get some time. This is the only difference."
Ramesh categorically denied that the Accord had abandoned the Kyoto Protocol, saying, along with the UNFCCC and the Bali Action Plan, remained sacrosanct.
Rejecting the Opposition's charge that the US had also managed to skip its obligation of providing $100 billion (about Rs 460,000 crore) for green technology transfers, Ramesh argued that a country like India would not need international aid.
"Green technology is an area where India can emerge as a world leader. Let us not always keep talking of technology transfer. I want to say that many Indian companies have already seen business opportunities in this. Today, of the top 10 solar companies in the world, four are Chinese. Let us see this as a business opportunity," he said.
The minister described how India had hard negotiations with the United States for almost 36 hours over the words of the Accord. The US wanted to use words like 'scrutiny', 'review' and 'verification'. Brazil, South Africa, India and China - also called the BASIC group - collectively resisted it and proposed 'dialogue' and 'discussion'. Finally, the four countries agreed to "consultations and analysis".
Pachauri dismisses US claim
Dismissing the US claims that India's domestic climate actions could be challenged, top environmentalist R K Pachauri today made it clear there was no power granted to America in the Copenhagen accord for such interference.