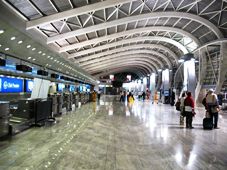 State-run City and Industrial Development Corporation and the Mumbai Metropolitan Region Development Authority plan to build a metro rail connectivity between Mumbai and Navi Mumbai, the eastern suburb of the city.
The rail link is considered necessary as it will help decongest the growing traffic once the proposed airport comes up in Navi Mumbai.
"We held a preliminary discussion to assess the possibility of a metro railway connecting Navi Mumbai and Mumbai. The cost of the project is yet to be ascertained," Cidco joint managing director Tanaji Satre told
Business Standard
.
Cidco has already indicated that the airport would be made accessible to all major forms of transport including the road networks, the metro, the suburban railways and even via a hovercrat service.
As far as metro railway is concerned, a city transport expert, who did not want to be quoted, said the proposed metro rail project would cost over Rs 10,000 crore (Rs 100 billion).
He also recalled that Cidco's metro rail project for Navi Mumbai alone would need Rs 3,000 crore (Rs 30 billion).
The metro railway would be in addition to the Rs 7,700 crore (Rs 77 billion)
Mumbai Trans Harbour Road Link project.
On November 22, the Ministry of Environment and Forests gave its green signal to the proposed airport in Navi Mumbai, after several years of delay due to ecological concerns raised by the ministry.
Cidco is a nodal agency appointed by the Maharashtra government for developing the Navi Mumbai international airport, while MMRDA is a planning agency engaged in carrying out various infrastructure projects in the Mumbai Metropolitan Region.
Even though MoEF has given its nod, Cidco has said the actual construction would begin in October next year. The airport is being built to cater to 60 million passengers annually.
As reported earlier, the Panvel-Uran railway line, which has two tracks mainly serving the Jawaharlal Nehru Port Trust, besides a defence establishment at Mora, is being converted into a dedicated freight corridor.