China shares slumped to their lowest since early 2009, reversing Hong Kong gains on Tuesday morning, with losses accelerating for mid-sized banks as mainland interbank rates started climbing, deepening market jitters.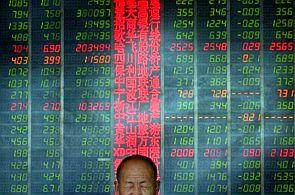 By midday, the weighted-average seven-day repo rate was slightly higher than it closed at on Monday after the Chinese central bank on Tuesday opted to stand pat at the first of two scheduled open market operations this week.At midday, the CSI300 of the leading Shanghai and Shenzhen A-share listings was down 4.8 per cent at 2,067.8, its lowest since February 2009. The Shanghai Composite Index dived 3.8 per cent to its lowest since January 2009.

Losses of almost 11 per cent on the CSI300 this week have pushed its relative strength index to 14.1, suggesting it is at its most technically oversold level since the indicator was started in 2005.

The Hang Seng Index slid 1.4 per cent, while the China Enterprises Index of the top Chinese listings in Hong Kong tumbled 2.8 per cent. Both reversed early gains as turnover picked up in late morning trade.

"The big losses are in the same mid-sized banks that were hit the hardest yesterday and accelerated as the SHIBOR gradually increased in the morning. This is a very jittery market right now," said Cao Xuefeng, Chengdu-based
head of research at Huaxi Securities.
In Shanghai, China Minsheng Bank plunged 9.9 per cent - the same percentage by which it fell on Monday - while Industrial Bank tumbled 5.7 per cent to its lowest since early December.
Smaller banks, among the biggest losers, are more reliant on short-term interbank funding. The Shanghai financial sub-index slumped another 5.2 per cent after sinking 7.3 per cent on Monday, its worst day since November 2008.
The "Big Four" Chinese banks were comparatively less hit in Shanghai. Industrial and Commercial Bank of China (ICBC) slipped 0.3 per cent and China Construction Bank (CCB) edged down 0.5 per cent.
In Hong Kong, ICBC shed 1.6 per cent, CCB 1 per cent, Bank of China 0.3 per cent while Agricultural Bank of China sank 1.7 per cent and Minsheng dived 4.7 per cent.
Rising on Tuesday was FIH Mobile, which said it expects to return to profit for the first half of 2013. FIH shares climbed 2.9 per cent in Hong Kong.
Other growth-sensitive sectors from materials and energy to property were broadly weaker, on fears that the jammed interbank market was affecting fund availability for companies.
In Hong Kong, property developer Sunac China fell 8.2 per cent, while shipper China Cosco lost 7 per cent. China Coal slumped 5.9 per cent to its lowest since November 2008.
"This is a market in capitulation, it's not worth trying to catch any technical rebound. We have seen this movie before, look at how much the market tanked in 2008," said Hong Hao, chief strategist at Bank of Communication International Securities.