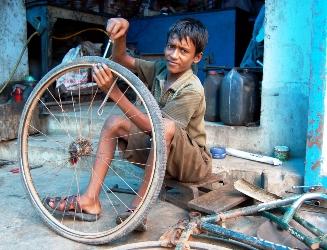 "I am very lazy and hate hard labour. Perhaps, to teach me a lesson, God has punished me with this job," 13-year-old Gopal Mistry told rediff.com while applying fresh paint to a bicycle.
He has a long day at work -- from 9 am to 7 pm -- at a bicycle repair shop in south Kolkata and makes Rs 1,500 a month.
"The 'salary' is quite good, you know, but even then it cannot meet the needs of my family," he rues.
Gopal has loads of responsibilities on his young shoulders. He has two younger sisters and two brothers to take care of.
Things were not as bad at his home some time ago. "We were not rolling in money ,but what Baba earned as a mill worker and Ma as a housemaid was enough to buy four meals a day and take care of our school fees. "
"Misery started chasing us ever since my paternal grandfather passed away. He was like a rock to the family. After he passed away, my father took to drinking. He even started living in with another woman and left my mother and us.
"After Baba's desertion, I was forced to give up my studies. I was in Class V then and my sisters had to take up jobs as housemaids as well. I told my younger brothers to continue their schooling as long as they can. I pay for their education at the moment."
As a teenager, Gopal cherishes a dream the boarding an aeroplane at least once. I have seen those 'flying objects' in films and heard a lot about how one feels light in the stomach as they take off.
"When I go back home, I tell my brothers to study hard and get jobs as soon as they can. I am pinching every penny at the moment. The day they get hired, I will buy air tickets for the entire family and celebrate the occasion in the syk."
"Air tickets come cheap these days, right. Will they be as cheap then?" Gopal throws a question at us and without waiting for an answer gets busy repairing another bicycle.
Image: Gopal Mistry. | Photograph: Dipak Chakraborty
Child labour is a dagger through India's soul. The country has the dubious distinction of being home to the largest child labour force in the world, with an estimated 30 per cent of the world's working kids living here.