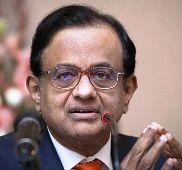 Finance Minister P Chidambaram on Monday exuded confidence that the Reserve Bank would announce far bigger steps to boost growth in its next policy review on October 30.

He termed the cash reserve ratio cut as a small but welcome measure.

Chidambaram said the government would announce more policy steps in the next 45 days to revive growth, after the Cabinet last week decided to roll out major foreign direct investment reforms.

"It (the CRR cut) is a small step," he told reporters after the RBI cut the requirement for banks to hold mandatory cash with the central bank by 0.25 percentage points.

However, the finance minister said the measure was welcome and he was not disappointed with RBI policy.

"The response of RBI on October 30
will be far more supportive of growth," he added.
As the government took a slew of steps to liberalise foreign direct investment in single and multi-brand retail and clarified on FDI in power trading exchanges, the minister said more measures were likely in the next month and a half.
"I am very confident that between now and October 30, the government is expected to take a number of additional policy measures and also lay out a plan of fiscal consolidation," Chidambaram said.
At the full Planning Commission meeting on Saturday, Chidambaram had mooted the idea of a national investment board headed by the Prime Minister to fast-track infrastructure projects costing more than Rs 1,000 crore (Rs 10 billion).
"Once a decision is taken by the board, no ministry or department or authority should be able to interfere," he had said.